Dr. Rhoda Sword, associate professor at the Dental College of Georgia, and Janice DeLoach, director of IT customer experience on the Summerville Campus in the Division of Information Technology, were recently recognized by Student Counseling and Psychological Services for their work supporting student mental health.
The Mental Health Service Award, created in honor of Ginny Luke, a former Augusta University and SCAPS employee who served students for more than two decades, serves to recognize Augusta University employees who do not work at SCAPS but have significantly impacted the mission of the department: to provide mental health services to all students and to educate the university community about the importance of emotional wellness.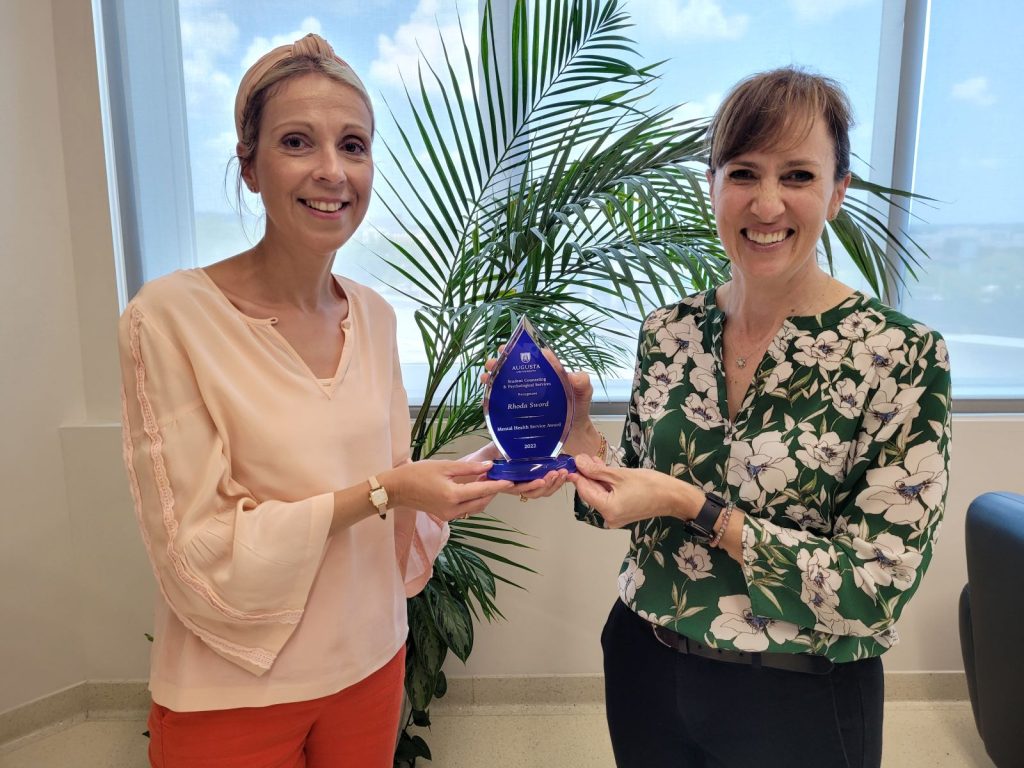 According to the SCAPS team, Sword has consistently supported the mission of the department. Every year, she invites the SCAPS team to train dental students in QPR suicide prevention training and the importance of emotional regulation and resilience in their professional lives. This work has supported SCAPS' mission to increase mental health literacy in the university community and among health care providers specifically.
"This award was such an honor, and I thank the SCAPS team profoundly for taking time to honor faculty in this way. I am passionate about mental health awareness because these tools are so important to teach to our future professionals," said Sword.
"Many helped to make this possible at the DCG, including Drs. Messer, Young, Capehart, Mollica and Dean Lefebvre. We are working to give the students professionalism skills including leadership and mental health awareness that were not taught years ago, because now we know the significance! As next steps, my dream is to see or to be part of the expansion of these tools and training to faculty and staff."
Mental health is prioritized at the college due to the intensity and rigor of dental education and the understanding that mental health impacts all areas of health, including dental health. For example, for many patients, personal hygiene is one of the areas of life most impacted by mental health challenges.
DeLoach was also recognized for her contributions. The SCAPS team described that for the past two years, DeLoach has consistently supported their information technology needs, helping the department provide smooth and uninterrupted telemental health services to students. She also assisted staff with telework and remote access issues.
Her work was critical at the start of the pandemic especially, when without IT support, SCAPS would not have been able to access many students in need of help.
"As our department has continued to grow and incorporate more technology in the daily work and services we provide, your timely responding to our needs has played a vital role in our ability to operate and provide the best customer services to our students," the SCAPS team said in their nomination.
"We are grateful to have a colleague like you who has addressed our needs consistently and with high professionalism."
DeLoach is thankful for the recognition, and acknowledges the importance of SCAPS' work.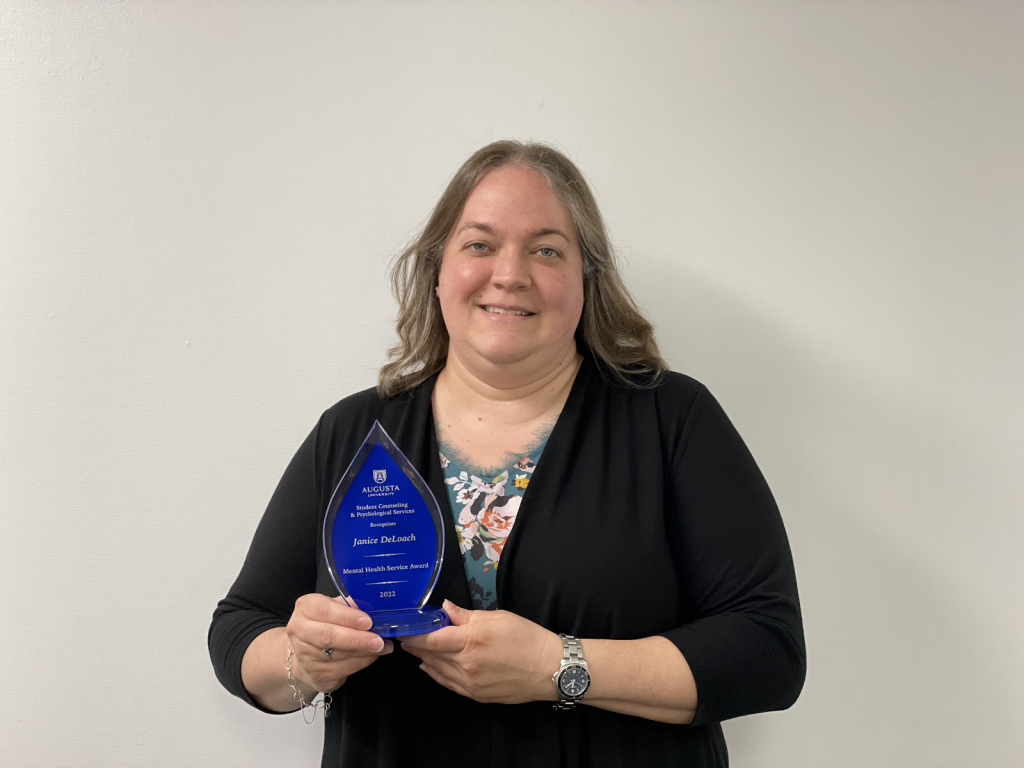 "I like helping people, and during the start of the pandemic it was a major adjustment for many of our faculty and staff to figure out what they needed to work from home and how to make it happen. It was important for all our service areas to be able to get up and running quickly so they could continue to support our students," she said.
As an adjunct instructor for the School of Computer and Cyber Sciences, DeLoach knows firsthand how important mental health support has been for students over the last few years. At the start of the pandemic, she noticed a few of her students disengage from class — and even received a concerning email from one of them that sprung her to action.
"I immediately engaged the CARE Team, and Ginny Luke herself was the team member that reached out to the student! It made an impact on that student and they were grateful that I cared enough to have someone check on them. It impressed upon me how important it is that we have services like Student Counseling and Psychological Services available for students."