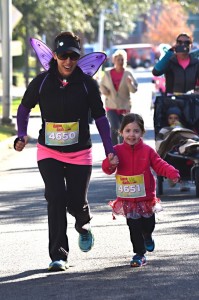 The second annual Dance Dash 5k swings into Augusta on Nov. 14, and supporters are already on the move. But what should you know before lacing up your running shoes?
In its own words, Dance Dash describes itself as a 5k with a twist. In a way, that's appropriate, because at any time Dance Dash might very well involve doing "The Twist."
The hope is that Dance Dash participants will run (or walk) to raise money for their area's Children's Miracle Network Hospital wearing whatever ridiculous (but appropriate) costumes they can muster. Last year, a couple of notable superheroes raced next to a troupe of pink-tutu-wearing fairies while a gaggle of overdressed Santas cheered them on from behind. And those weren't even the most imaginative competitors.
But the real craziness begins at the stops.
Every mile of Dance Dash (or three times total in a traditional 5k), participants will have a chance to learn a new dance move or routine.
Why, you ask? Because at the end of the race, Dance Dashers will be encouraged to join a giant flash mob dance party to celebrate their achievement.
While fun and entertaining, the true magic of Dance Dash is that 100 percent of all funds raised go directly toward providing the best care possible for sick children in our community. And the best part is you can start giving today.
The process is simple.
First, register for yourself or create a team with your friends and coworkers. Know a group of people you'd like to run, walk or dance with? Have an awesome costume idea you'd like to show off? Then come out and Dance Dash.
Second, share your individual or team race page on Facebook and Twitter to let your other, non-Dash Dancing friends know that you're competing. Remind them that if they won't join you, then the least they can do is support you. With donations. For sick children.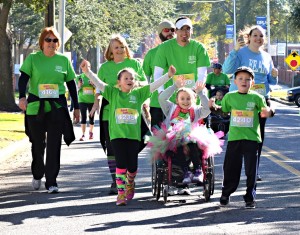 And, lastly, join us for Dance Dash Day at 9 a.m. Saturday, Nov. 14, in front of the Children's Hospital of Georgia in your best costume, craziest outfit and best attitude.
Individuals and teams can pick up their Dance Dash 5k packets from 3-7 p.m. on Nov. 13 or 7-9 a.m. on Nov. 14 in the CHOG lobby.
GRU-affiliated participants can receive an additional discount by contacting Jessica Seigler at 706-446-0232 or at jeseigler@gru.edu.
Registration ends at noon on Nov. 13. To guarantee yourself an official Dance Dash T-shirt, though, you'll need to register by 11:45 p.m. on Oct. 30.
Interested? Excited? Ready to dance to make the world a better place for children?
Then click here register for the second annual Dance Dash 5k!