When the recipients of the Augusta University Research Institute (AURI) Awards for significant contributions to the university's COVID-19 response were announced late last year, a number of faculty members from several different colleges were recognized for volunteering their time and efforts during the pandemic.
Individuals from Augusta University's Department of Art and Design, the Center for Instructional Innovation, the Department of Medical Illustration, the College of Education, the College of Allied Health Sciences and The Dental College of Georgia stepped forward and used their unique skills to fill a significant need during this difficult time.
Whether it was developing thousands of 3D printed-nasal swabs for the entire state of Georgia or thousands of reusable Montana Behr medical masks and 3D printed-face shields to protect clinicians' eyes and faces from the coronavirus, the dedication of these faculty members has not gone unnoticed.
Now, one year after the World Health Organization declared the global coronavirus outbreak a pandemic, some of the 2020 AURI recipients are looking back on the challenges the university faced keeping the Augusta University Health clinical staff and patients safe from exposure to COVID-19.
Lynsey Steinberg, a board certified medical illustrator for the Center for Instructional Innovation at Augusta University, recalls when health care workers across this country were seeing a shortage of personal protective equipment such as medical masks and face shields.
The growing demand for such personal protective equipment amid the coronavirus pandemic caused prices to surge and, in some cases across the country, resulted in supplies taking months to be delivered.
As a result, Steinberg led an effort to pull together a task force to provide AU Health with thousands of face masks molded from silicone and 3D printed-face shields. The task force from Augusta University teamed up with local companies such as Solvay Specialty Polymers, Club Car, Textron, software engineer David Stevens from the Savannah River Site and MTU Solutions to produce 3D-printed molds and create reusable face masks.
"Honestly, I can't believe it's been a year," Steinberg said, laughing. "But, looking back, I think it gave us a sense of purpose to help people when we all felt pretty helpless, having to stay at home during the beginning of the pandemic. It also really gave us a sense of community and collaboration."
Steinberg worked directly with Amanda Behr, an associate professor in the College of Allied Health Sciences' Medical Illustration Graduate Program, medical illustrator and anaplastologist at The Dental College of Georgia's Anaplastology Clinic at Augusta University, to develop reusable silicone masks nicknamed the "Montana Behr Mask."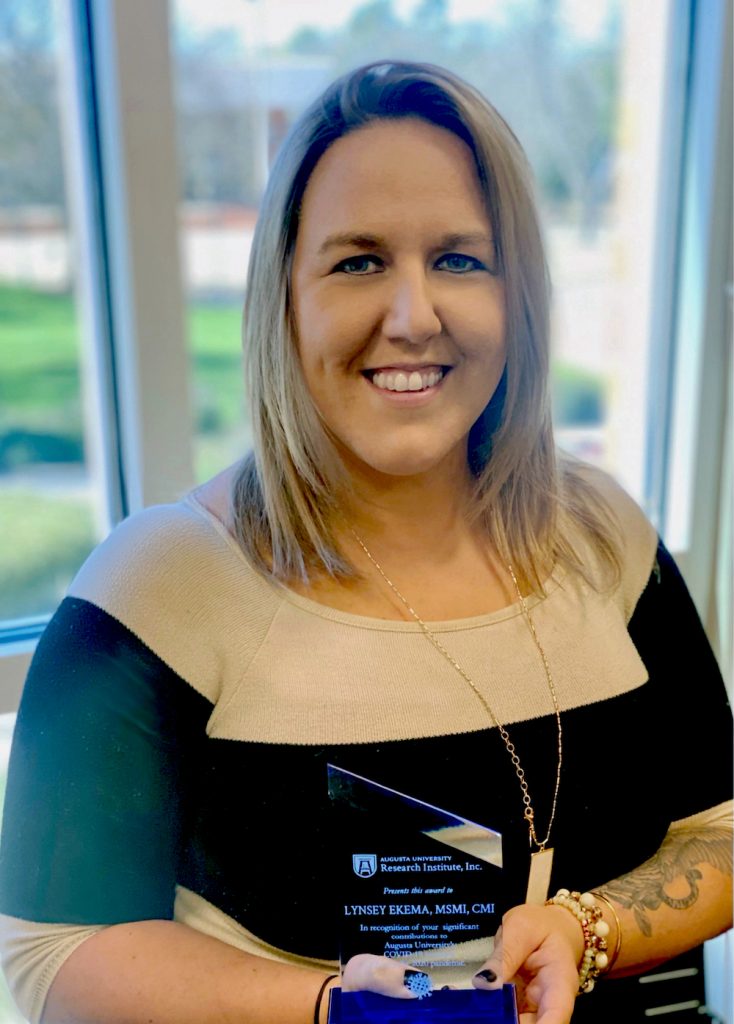 The initial idea of reusable face masks came from the Montana Mask, which is a plastic filtration face mask designed for 3D printers by a college graduate and two medical professionals in Montana. But the Montana Behr masks were created using silicone because it's a much lighter, comfortable material.
"Amanda, she doesn't like to toot her own horn, but she spent hours upon hours in her own studio at home working on these masks outside of her position," Steinberg said. "All the time that was spent outside of our work hours to bring this whole collaboration together was actually, really remarkable.
"I feel like, during this pandemic, the mask making and the face shields were a huge example of what we do with our creative problem-solving skills as medical illustrators."
The DCG Anaplastology Clinic at Augusta University provides patients with custom-designed, non-weight-bearing prostheses to individuals living with anatomical anomalies, such as congenital absence of a body part, amputation from trauma or loss from illness.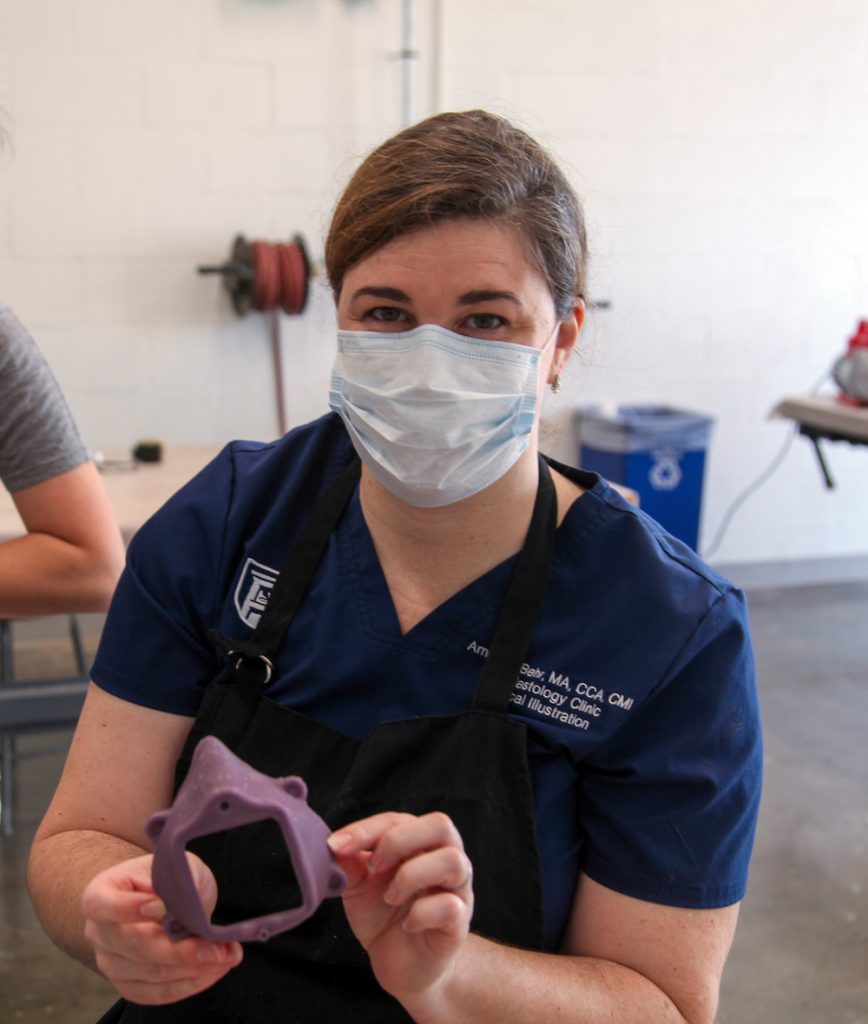 Behr regularly designs prosthetics such as ears, eyes and noses for her patients, so she volunteered to use that expertise during this pandemic to develop much more comfortable masks made of silicone that could be easily sterilized and reused by the clinical staff at AU Health. To test and produce masks quickly, Behr designed a digital production process that drew on her experience teaching and researching medical sculpture in the Department of Medical Illustration.
"Because everything took a pause during the beginning of the pandemic, it was a way for me to help when I couldn't treat patients and I wasn't able to see our students face to face," Behr said. "It was just some way to feel like I was contributing because this pandemic has been so global and out of our control. It was a small way that I felt like I could do something positive to help."
Art meets science
Steinberg and Behr teamed up with Professor Brian Rust, Assistant Professor Marianna Williams, former Morris Eminent Scholar in Art Cheryl Goldsleger and studio technician Brian McGrath from the Department of Art and Design at Augusta University, as well as Bill Gray, the manager of educational technology from the College of Education, to develop both the face shields and masks. Assistant Professor Paul York from the School of Computer and Cyber Sciences and Erika Grimm, an institutional information analyst, also greatly contributed to the task force.
"The benefit of 3D printing in situations like this is that it allows for rapid prototyping," Gray said, adding the design for the face shield had only been out a week during the beginning of the pandemic before it was being disbursed worldwide. "Anyone with a 3D printer could download the model and print face shields and masks."
As part of an academic setting, McGrath thought it was important to get some of the art students involved in the process of developing the molds and face masks.
"We had about six students who came into the studio and consistently worked on the project," McGrath said. "And, during this process, I think we all got to see other jobs and possibilities that our art students could have in other creative fields, like medical illustration, or someone who's building prosthetics. I think those kinds of options aren't always thrown in front of art students."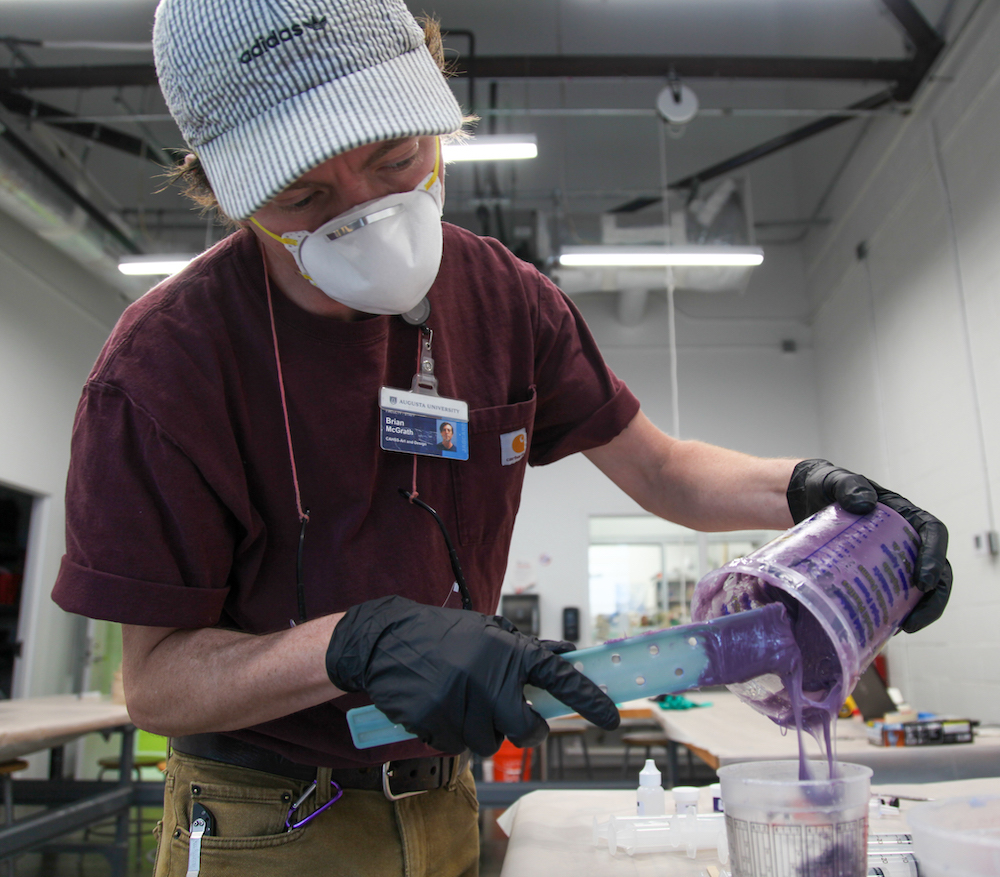 In fact, art student Aaron Cummings took on the role of the studio's director of volunteers during the making of the masks, McGrath said.
"Each day, we would be given new volunteers from Solvay to help develop the masks and we'd train them on the project," McGrath said. "So, every morning when new volunteers came into the studio, Aaron assigned them positions, got them going and served as our project supervisor. We had at least 10 different steps to making the masks, so we started building an assembly line."
Since then, Cummings was hired by the university as the sculpture lab studio student assistant and he has been focusing on introducing more students to 3D printing, McGrath said.
"I think Bill (Gray) and Marianna (Williams) have shown people through this process how fast something can go from an intangible idea into an actual physical piece," Cummings said. "While developing these masks, there were all these modifications. We got feedback from the first designs that came out of the printers, like, 'Well, this doesn't fit right,' or 'It's too big.' Then, the very next day, Bill would come back having already modified the file and printed out four or five prototypes.
"It really showcased the ability for 3D printing to be brought into the art department and I think that's something that could really take off here."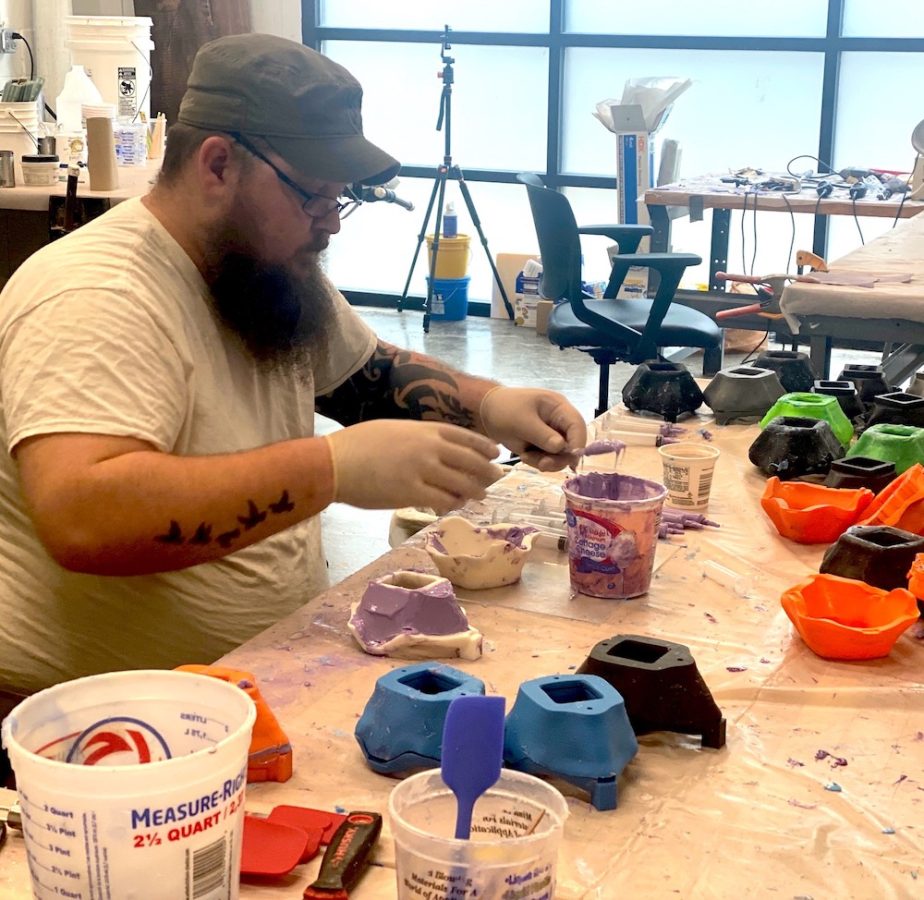 In addition, the project also taught students the importance of ensuring the consistent quality of something as vital as face masks, McGrath said.
"The masks had to be extremely functional under certain lifesaving circumstances," he said. "It had to be done correctly because we understood, 'Hey, this is going to protect people and help save people's lives.'"
Volunteering to help develop the masks also allowed members of the university's faculty to get to know one another better, Williams said.
"It was cool for me to collaborate with the folks in the computer science building with the 3D printers," Williams said. "It was a cross-department collaboration. We were learning from each other and it just felt like we were part of something special. And if there's something that comes up in the future, I know we could all work together again and find a solution."
Rust said he was honored to be a part of the process and he appreciates the university recognizing their efforts with the AURI award.
"It was just nice that people recognized how collegial and how interdisciplinary this was. It truly was a collaborative project," Rust said. "It was doing the cross-discipline research that AU really has been trying to tout all these years, so it felt good to be a part of it all."
Developing 3D-printed nasal swabs for Georgia
One of the biggest challenges in testing for COVID-19 this past year was the shortage of the highly specialized nasal swabs to take samples.
In order to receive an accurate test, the nasopharyngeal swabs have to be long and skinny enough to get to the nasopharynx, the upper part of the throat, behind the nose. But, by March of last year, such swabs were in short supply throughout the world because many of them are imported from Italy, a country that initially was hit hard by the coronavirus.
"I remember I was in these service team meetings at the hospital and Dr. (Phillip) Coule had reported that we were going to have an issue of the nasal swab deficiency," said Dr. Jeffrey James, program director of the Advanced Education program in Oral and Maxillofacial Surgery (OMFS) at the DCG. "It is crazy, looking back on it, how interconnected everything is, right? Who would have thought we would be talking about nasal swabs during a pandemic? You would think we'd be discussing ICU beds and more obvious things. But nasal swabs?"
"But it turned out these early tests for this virus were very specific in what kind of nasal swab was needed to collect an appropriate amount of specimen. And, at the time, these swabs were in short supply. So, we were sitting there with no solution."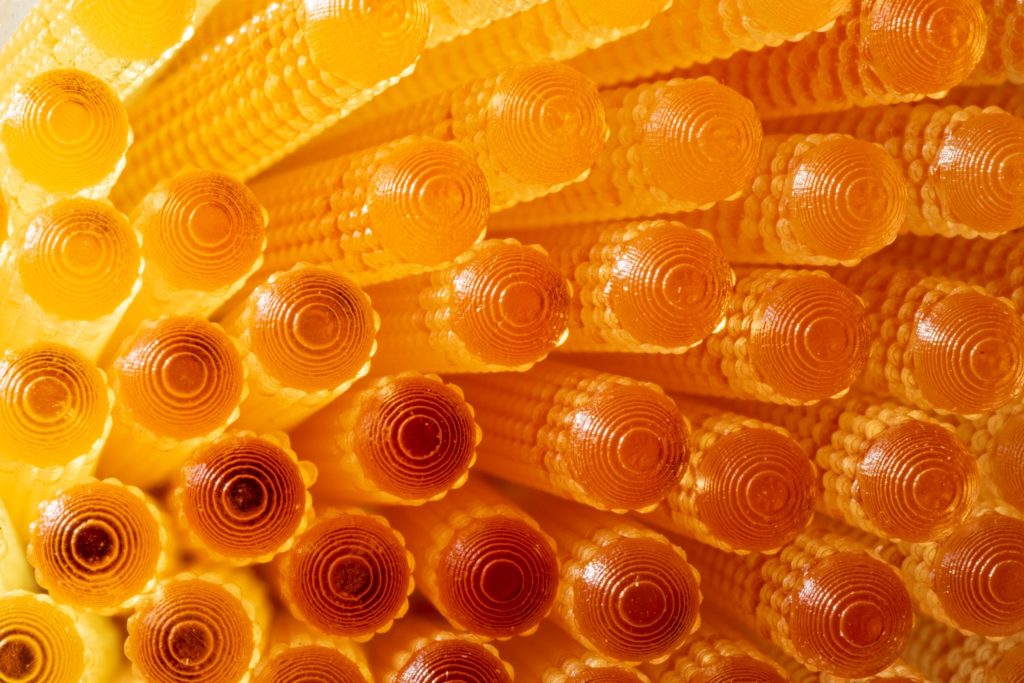 Fortunately, James said his department is accustomed to using 3D printing in areas of virtual surgery for craniofacial defects and anomalies, so the team at DCG used that knowledge to produce thousands of 3D printed nasal swabs initially for AU Health, and eventually the entire state of Georgia.
Under the leadership of James, OMFS residents Drs. Alexander Faigen and Kyle Frazier modified a 3D-printed nasal swab design created by the University of South Florida Health, Northwell Health in New York and a leading 3D printing company called Formlabs.
All testing showed that the 3D printed-nasal swabs perform equally to standard swabs used for testing for COVID-19. The testing of the swabs was conducted by USF Health faculty researchers in the departments of Radiology and Infectious Diseases in collaboration with Northwell Health, including validation testing and rapid clinical testing at Northwell Health and Tampa General Hospital.
The DCG team slightly modified the design of the 3D printed nasal swabs to assure enough specimen was collected during the COVID testing process and quickly began producing the 3D printed swabs, James said.
"Now, we were originally going to just print some 3D nasal swabs to support AU and our community, but once we began printing that swab, that was the missing link in the supply chain," James said. "So, suddenly, AU was back in business and we were getting a lot of attention."
As a result of DCG's efforts, Brig. Gen. Randall V. Simmons Jr. of the Georgia National Guard asked James' team to produce 5,000 nasal swabs a day that would be used throughout Georgia.
"We were initially talking about 300 swabs a day to support AU," James said, chuckling. "But, suddenly, they were asking me, 'Jeff, can you do 5,000 swabs a day?'"
Even though James was floored by the request, he was confident his team could get it done.
"All OMFS people kind of have the same personality," James said, laughing. "We don't ever turn down a challenge. So, I just looked at Dr. Coule with a stone-cold face and said, 'No problem.'"
Along with Faigen and Frazier, the DCG had a team of residents, including Christian Dahl, Will Baldock, Matthew Yeung, David Pearson, Michael Thompson, Bryan Benton and Jasmine Silas, taking shifts to work around the clock to produce the requested 3D nasal swabs. Within a few days, Georgia Gov. Brian Kemp publicly applauded the team at the DCG for agreeing to produce thousands of 3D-printed swabs each day to be used throughout the state.
"This capacity reduces the stress on vendors and government entities as we boost testing and get Georgians back into the workplace," Kemp announced last year.
James said the team felt a great deal of accomplishment helping to supply the state with the nasal swabs it so desperately needed during the beginning of the pandemic.
"I think at our peak, we had a capacity of 7,000 swabs a day," James said. "We were just trying to help because a lot of folks were sitting at home, twiddling their thumbs and getting frustrated. This took our minds off of what we couldn't do. We felt like we were doing some good.
"We were helping the cause, instead of just taking a back seat. We wanted to do our part, too."