The attention given Augusta University alumna Alissa Eckert (MSMI '06) and the coronavirus image she created with Dan Higgins, her partner at the Centers for Disease Control and Prevention, may have slowed down a bit as the pandemic has continued to dominate headlines and affect nearly every aspect of our daily lives, but recently the attention spiked again as the image was named a Beazley Designs of the Year winner in the graphics category.
Beazley Designs of the Year are awarded by London's Design Museum and are, according to British journalist and broadcaster Razia Iqbal, who chaired the judges this year, the "…Oscars of the design world."
Awards are given in categories ranging from digital, architecture and transport to graphics, product and fashion.
"It's a complete honor to win such an award and be recognized for what we do," Eckert said. "They had mentioned that they wanted to meet with us, stating we had been shortlisted and that they wanted to converse about that. Come to find out, they told us we had won for the graphics category."
To her knowledge, it's the first time a medical illustration has won the award.
A complete list of winners can be found at the Design Museum website.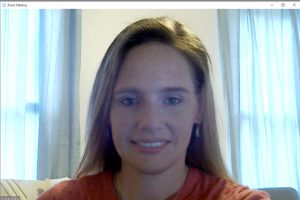 In April 2020, when the full impact of the SARS-CoV-2 virus was first being realized, the image, produced and made available for free use by the CDC, catapulted Eckert to international fame. She was interviewed by the New York Times and the Chicago Tribune, a story about the image appeared in Popular Mechanics and it even made the cover of a Time special edition. And that's just here in the United States.
"Lately, it's been less about the interviews and more about requests for talks and teaching opportunities," she said.
In December, Eckert was a guest on the science and innovation podcast SKRAPS.
"It's a privilege to educate the masses through art and have a direct effect on people's health and safety," she said. "It also puts medical illustration on the map and brings it to the forefront of communication."
For Bill Andrews, chair of the medical illustration program in the College of Allied Health Sciences, the added attention is welcome and well-earned.
"The Beazley Designs of the Year Award is especially significant because it is international recognition for the communication effectiveness of her outstanding work," he said. "When Alissa and Dan Higgins created the image of COVID-19, they weren't trying to win awards — they were just doing their job of creating images that tell stories. The department of medical illustration is immensely proud of Alissa and the stellar work she does every day on every project."
And the "project" of COVID-19 doesn't seem to be ending any time soon.