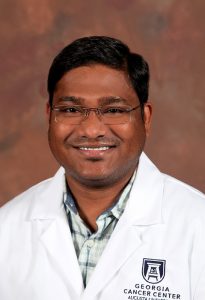 First the city, now the state. Dr. B. R. Achyut has been selected as one of Georgia Trend's "40 Under 40" for 2017.
Achyut, a cancer biologist and assistant professor in the Medical College of Georgia's Department of Biochemistry and Molecular Biology, was honored in June as one of Augusta Magazine's "Top 10 in 10 Young Professionals to Watch."
"I feel wonderful being recognized by Georgia Trend," he said. "It's important to receive this honor as a cancer researcher, because it shows people how important the work being done at the Georgia Cancer Center is. Whether individually or part of a team, you are going to have an impact on a cancer patient's life."
Achyut is looking for the money needed to start his own lab. Once established, he plans to focus his work on preclinical modeling of malignant brain and breast cancers.