After more than a year of planning, the Roar Store was officially unveiled to Augusta University students, faculty and staff at a launch party Feb. 1.
The Roar Store, formerly known as the JagStore, is the official campus store and fan shop of Augusta University located in Washington Hall. The store was transformed into a vibrant location with a fresh look through a collaboration between Division of Auxiliary Services, Division of Facilities Services and Communications & Marketing.
Over the past two semesters, extensive painting, graphic installations, store layout and merchandise changes have been unveiled to create a new brand experience for the campus and community.
The kickoff featured participation from student organizations and departments, music and food provided by Public Safety and Communications & Marketing. The men's and women's basketball teams, coaches, cheerleaders and Jaguars mascot, Augustus, also were in attendance.
Director of Marketing Taylor Lamb said Communications & Marketing collaborated with Facilities and Auxiliary Services and worked extensively to review the graphics and layout. Kim Airington, business operations specialist for the Division of Facilities Services, added that this kind of overhaul takes a lot of planning, coordination and communication between all the teams involved.
"We began planning and discussing the revamp of the campus store in the summer of 2021," Lamb said. "We in C&M started brainstorming graphics, concepts and a refreshed look to the store and merchandise. After building a 3D model of the store, we had some focus groups with students and prepared ideas."
READ MORE: Animation student Emily Hogue creates winning mural for Roar Store rebrand
Airington looks forward to the store becoming a destination spot on campus.
"We all wanted this project to succeed and the amount of collaboration between the many departments, employees, vendors and contractors was huge," Airington said. "I am hoping that the campus as a whole will have a sense of pride when talking about it, shopping for AU merchandise and/or gifts for themselves and their friends and family."
Lamb said changing the name was always an idea, but ultimately came together after he spoke to a public relations class last fall and a Pamplin College of Arts, Humanities, and Social Sciences student, Angela Stephan, suggested that name.
READ MORE: Augusta University partners with Textbook Brokers
Stephan, who is a junior communications major, said when Lamb opened the floor to questions, she suggested changing the name of the JagStore because it "doesn't represent us as Jaguars." She suggested Roar Store because it should be a powerful name that elicits pride.
"About a month later in November, I saw him at the volleyball game, and he told me that he decided to change the name and they'll be using the Roar Store," she said. "I was very happy about that and shared the news with my professor and classmates who were in class when he visited us."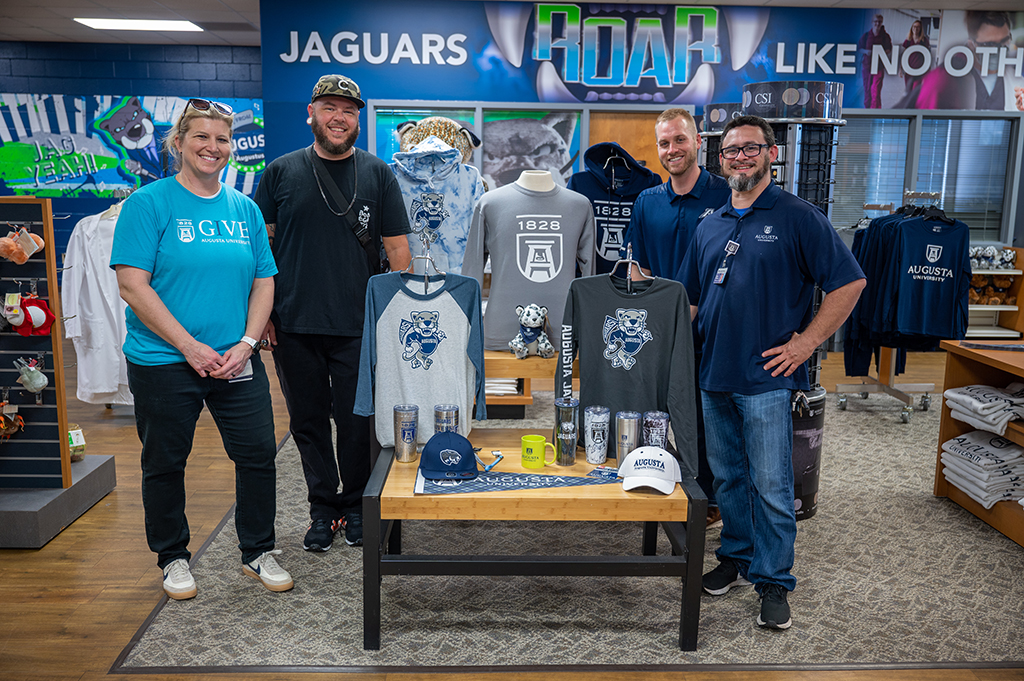 Stephan visited the revamped store in between classes Feb. 1 and said, "it definitely looked better, more inviting." She thinks the new look will encourage students to visit the store regularly and see what's new and spend more time browsing and making purchases.
"It's more organized and has products that are appealing to students and their parents," she said. "The key is merchandising and shelf appearance. It'll be a win-win for both students who can find what they are looking for, and for the Roar Store to raise its revenue. I'd like to thank Drs. Carrie Reif-Stice and David Bulla for having the guest speakers, and the opportunity to express our ideas and thoughts. It definitely makes the learning experience exciting."