When Augusta University art professor and sculptor Brian Rust was asked to have his artwork featured in the inaugural solo exhibition of the new art gallery CANDL Fine Art in downtown Augusta, he jumped at the opportunity to help draw attention to local artists.
"I'm incredibly grateful to get this opportunity because there hasn't been a gallery like this in town since the Mary Pauline Gallery closed in 2008," Rust said, explaining that local artist Molly McDowell opened a fine art gallery on Broad Street in 1998 that thrived for more than 10 years. "That gallery was a big shot in the arm for local artists because it featured fine art that wasn't shown in other places around town. She brought people in from the outside world to see your work. It gave local artists a lot more exposure."
Local photographer
Drake White
, who recently returned to Augusta after living and working in the San Francisco area for more than 20 years, once again saw a need for such an art gallery on Broad Street.
Late last year, White arranged an art show called "Toi et Moi," which was a pop-up event in an empty space at 1128 Broad St. The exhibition featured his photographs of 35 local artists alongside their artwork. When the event occurred on Dec. 2 last year, White was amazed by the amount of support shown by the local art community.
"This space was packed and there were even people waiting outside to come and see the show," White said, laughing. "This was supposed to be just a one-night affair. It was going to be a pop-up exhibit celebrating local artists, but it became much more."
Amy Donaldson, the owner of Augusta Candle Co. on Broad Street, currently uses the back portion of the 1128 Broad St. building for her wholesale business. But she generously offered the front section of the building to serve as the CANDL gallery, White said.
"From there, this whole idea of opening up a nonprofit was born," White said. "We want to create a space for artists, where we are going to charge less than what a normal gallery does in terms of a commission rate, to help foster the local art community. We just felt like it was something that needed to be done."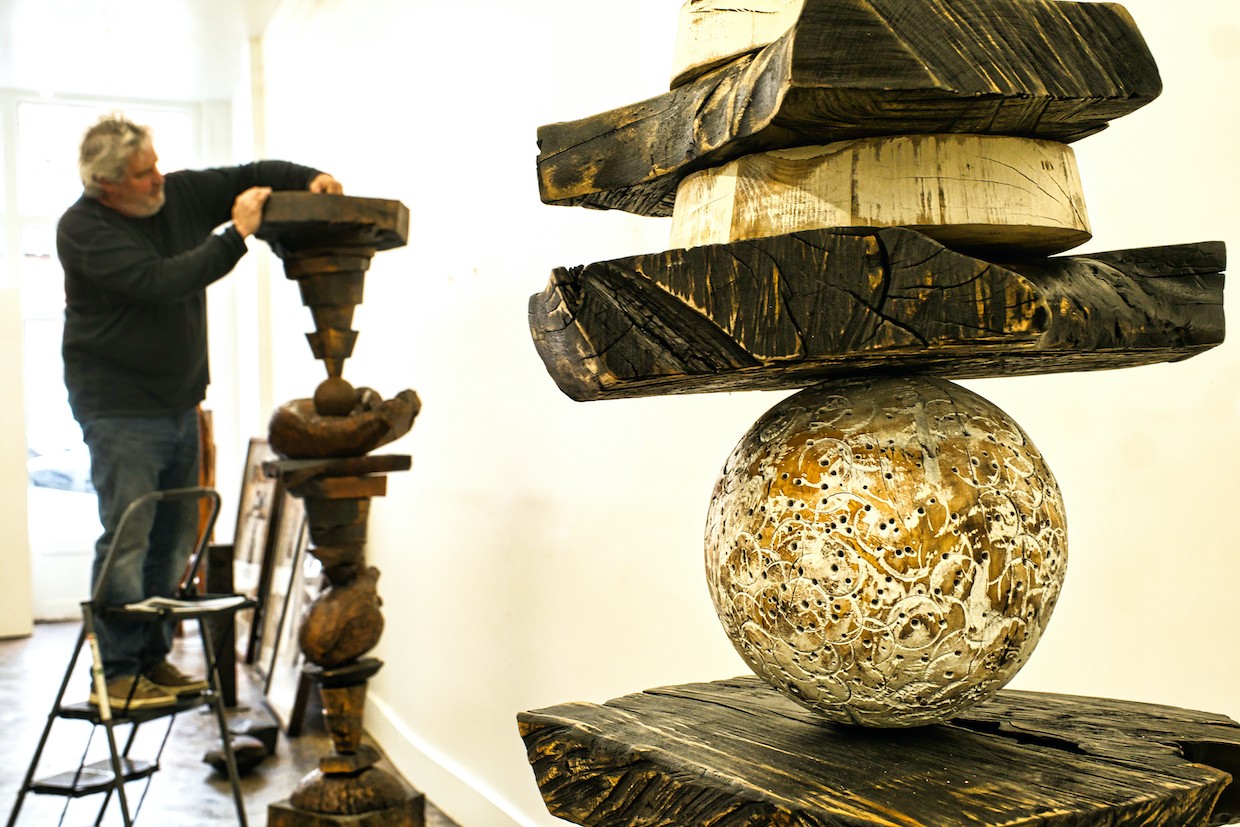 CANDL will operate under a specific, unique mission: to elevate the awareness of art and, more importantly, the artists living and working in the greater Central Savannah River Area, White said.
The opening reception of the gallery's inaugural solo exhibition, "Circle Forward Circle Back," featuring Rust's artwork, will be from 6 to 8 p.m. Friday, Feb. 10. The exhibition will be comprised of 27 pieces by Rust and will run through March 24.
"This show will include some of my older work, as well as some brand-new digital pieces and recent ceramic work," Rust said, adding that much of his work includes natural materials to create wood, clay and photo-based sculptures. "It is going to be sort of like a retrospective of a bunch of what I've done over the years."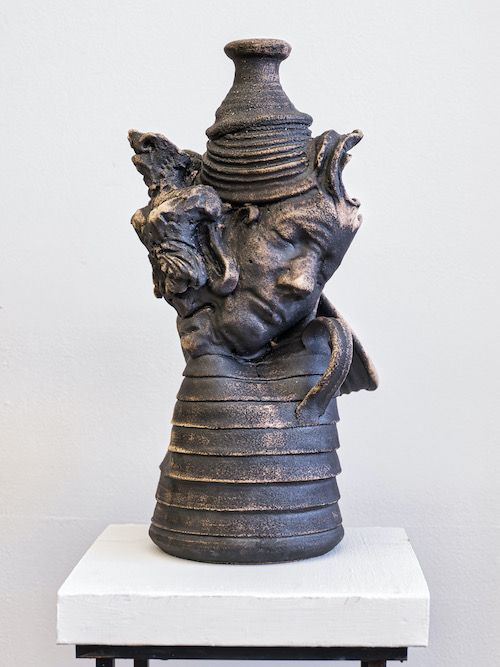 Rust, who developed a 50-foot-long rock sculpture in 2019 on the banks of the Augusta Canal titled
"Stone Boat,"
has also created several site-specific sculptures in public areas throughout the country, including Henry Lay Sculpture Park in Louisiana, Missouri; South Carolina Botanical Garden in Clemson, South Carolina; Stone Quarry Hill Art Park in Cazenovia, New York; and Mid-Columbia Arts Center in Kennewick, Washington.
The exhibition features a mix of Rust's two-dimensional and three-dimensional works, including large eight wheel-altered clay vessels, White said.
White, who attended Augusta College in the 1970s, has already talked with Scott Thorp, chair of the Department of Art and Design at Augusta University, about scheduling a series of artist talks and events with art students at the new gallery.
"Since I'm trying to elevate the awareness about the quality of the artwork here, I think we can use this platform as sort of an educational push," White said. "This would be a great space to gather people with different backgrounds to talk about a specific topic or art in general. We want to really start that dialogue."
Other local artists scheduled for CANDL exhibitions later this year include Edward Rice, Franklin Delgado, Lillie Hardy Morris, Staci Swider and Jay Jacobs.
Looking around the gallery, White said he is honored to have Rust as the artist featured in CANDL's inaugural show.
"We are so lucky to have an artist of Brian's stature and talent among us here in Augusta," White said. "And even though this gallery basically happened by accident, this is really the way we are going to connect local artists and build a better community."