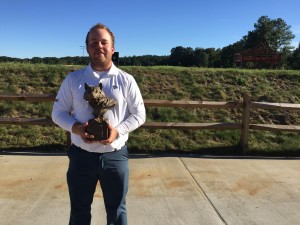 RALEIGH, N.C. – Officially competing as Augusta University for the first time, the Jaguar men's golf team climbed seven spots to finish in first place at five-over par on Tuesday in the 16-team field at the NC State Wolfpack Intercollegiate at the Lonnie Poole Golf Course. Jaguar senior Robin Petersson won the overall event at six-under par to take the individual trophy.
The Jaguars improved by 21 strokes from round one to round two and overtook host NC State and UNCG for the top spot by shooting eight under on Tuesday as a team.
After a wet opening 18 holes on Monday, Jaguar senior Robin Petersson shared first place with West Virginia's Max Sear at three-under par. Petersson began round two with an eagle on the par-five, 578-yard first hole and he never lost momentum to take the title. Petersson shot even for the remaining front nine and carded two birdies on the back nine to finish with his second-consecutive 68 (-3) – matching the second-lowest score of his collegiate career.
Sophomore Broc Everett turned in his lowest round of his career with a five-under 66 – highlighted by six birdies on the scorecard. Everett finished fourth overall, while teammate Jake Marriott took a tie for 23rd at four-over par after shooting a 71 (E).
Senior Maverick Antcliff dropped eight strokes from his round-one score and shot an even-par 71 as well to finish tied for 46th overall and Jackson Stroup rounded out Augusta in a tie for 66th. Emmanuel Kountakis competed as an individual for the Jags and he finished seven-over par in a tie for 39th.
Augusta won the event at five-over par, UNCG and NC State tied for second at seven-over par, Lipscomb and Campbell took a tie for fourth, West Virginia sixth, Loyola Maryland and Chattanooga tied for seventh, USC Upstate carded ninth, Georgia Washington 10th, Western Carolina 11th, Drexel and Temple tied for 12th, Wofford 14th, Seton Hall 15th, and Hartford 16th.
The Jaguars play at the Tavistock Collegiate Invitational, hosted by UCF and Texas Tech, on Oct. 18-20 at the Isleworth Country Club in Windermere, Fla.