Female golfers from Valladolid, Spain, are somewhat rare, but not at Augusta University.
In fact, two female golfers from Valladolid make up 25 percent of the talented women's golf team at Augusta University thanks to sisters Cecilia and Teresa Diez-Moliner.
"In our hometown, golf is not very big. We are the only two girls playing golf, pretty much," said senior Cecilia Diez-Moliner. "My dad just loved playing golf on the weekends to get away from the stresses of work and he wanted to have fun with his friends. One day, he decided to bring all four siblings in the family to the golf course. I remember I was 12 and my sister was 10 at the time."
As the Augusta University women's golf team prepares to host the 14th edition of its home tournament with the Valspar Augusta Invitational on March 16-17 at Forest Hills Golf Club, the Diez-Moliner sisters can't help but look back on the long journey that brought them to Augusta.
The sisters came to Augusta University to pursue their love of golf and, in return, they have found a whole new family.
"I am a very team-oriented person and I absolutely love this team," said Cecilia Diez-Moliner, sitting on the back porch of the J. Fleming Norvell Golf House. "Our coach also says Spanish players are like fire. We have a lot of passion for the game and that makes us very competitive, so we don't like to lose. But I do it more for the team than myself. Doing well for the team is my main goal."
Even as children, both sisters showed real promise and instantly took to the game.
"We started classes once a week on Sundays and both of us were the ones in the family who really started liking golf more and more," said sophomore Teresa Diez-Moliner. "Then, we started competing in our region and eventually began traveling with a team through Spain."
By high school, Cecilia Diez-Moliner participated in a study abroad program with a school in Indiana.
"I was only there for about 15 days, but that was my first time in the United States," she said. "And I began thinking about the opportunities here because, in Spain, you can't really study and play a sport. There are not really any college teams or anything like the NCAA in Spain. You either turn pro or go to college and I've always wanted to study first, so that's why I came here."
When Augusta University recruited her back in 2015, Cecilia Diez-Moliner was pleased to discover there was another Spanish player, Teresa Caballer Hernani, on the women's golf team.
"She graduated when I was a freshman, so we weren't together that long, but I talked to her and she loved it here," Cecilia Diez-Moliner said. "So I decided to come to Augusta."
A Whole New World
As soon as Cecilia Diez-Moliner stepped off the plane in Georgia, she quickly learned that Augusta was much different than the city she visited in Indiana during high school.
"I would have never thought there was such a huge difference in the South," Cecilia Diez-Moliner said, laughing. "When I came here and people were speaking, I was like, 'Is this English or no?' Everyone had such a thick accent. It was so different. I was like, 'Oh, my goodness.'"
Being so far away from her friends and family was also challenging.
"It was a huge change for me," she said. "I was 17 when I came here and I didn't have a car, so I couldn't drive anywhere. It was definitely a big adjustment in the beginning, but you quickly see how much fun it really is being a member of this golf team."
She wasn't the only one who was new to Augusta University that year. Women's Golf Head Coach Caroline Hegg had also just joined the university.
"Cecilia and I started here together in the fall of 2015," Hegg said. "We learned about Augusta together. And, right out of the gate, you could see her natural talent."
As a freshman in 2015-2016 season, Cecilia Diez-Moliner was in the starting five for the Jaguars to win the 3M Augusta Invitational, which was the first win for the Jags at a home event. And she posted a 78.83 stroke average for the year.
Not only that, but she was also named a Women's Golf Coaches Association All-American Scholar that year. The criteria for selection to the All-American Scholar Team is some of the most stringent in all of college athletics because the minimum cumulative GPA is 3.5.
By her sophomore year, Cecilia Diez-Moliner had played in 23 rounds and eight events during the season and helped Augusta University earn an NCAA Regional at-large bid.
When it was time for her younger sister to begin considering her options for college in 2017, Cecilia Diez-Moliner immediately approached Hegg about the possibility of her sister also coming to play for Augusta University.
"Ever since we were little, we've always said, 'Imagine if we could go to the same college,'" Cecilia Diez-Moliner said. "When it was time, I talked to the coaches, and they loved it, so she came here, too."
No Better Friend Than a Sister
While some younger siblings may not want to follow in their big sister's footsteps, Teresa Diez-Moliner jumped at the opportunity to come and play golf for Augusta University.
"We've always been there for each other, so our parents were really happy that we both came to Augusta," Teresa Diez-Moliner said. "And I feel like it was easier for me because I already had my sister here."
The sisters also bring out the best in one another, Cecilia Diez-Moliner said.
"Oh yeah. We are competitive," she said, laughing. "But we aren't competitive with each other because we've grown up practicing together and we go everywhere together, so we make one another better. We don't want to beat each other. We just want the best out of each other."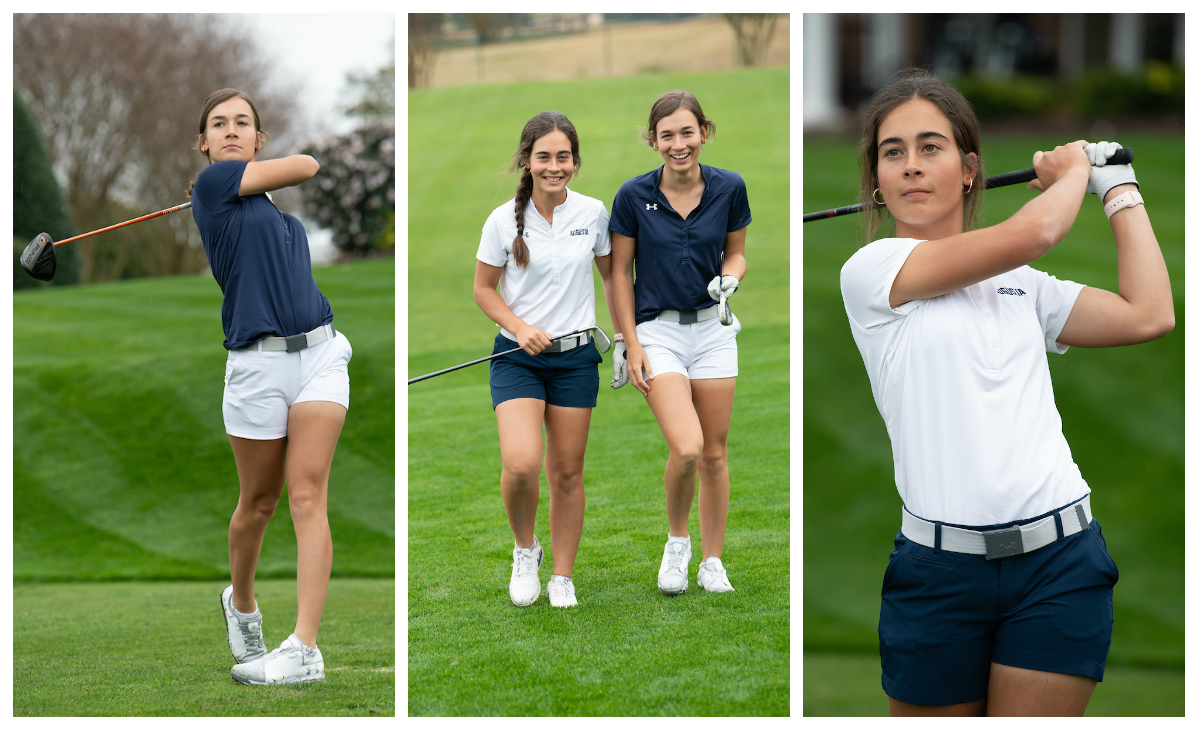 The Diez-Moliner sisters are a true gift to the women's golf team at Augusta University, Hegg said.
"They have a lot of enthusiasm and passion for golf. And as a coach, you can't teach that," Hegg said. "I can't train them to love the game, but those two girls come by it naturally. They love to practice and play and they come in every day with a lot of enthusiasm."
As the team gears up for the Jaguars' home tournament featuring 12 Division-I teams including Purdue, Princeton, Texas Tech, Central Arkansas, Charlotte, Coastal Carolina, Daytona State, East Tennessee State, Memphis, South Florida and Toledo, Hegg said the players are preparing for several busy weeks ahead.
"We pretty much have four tournaments in five weeks beginning with our home event," Hegg said, adding that women's golf has an even bigger spotlight on it this year because of the inaugural Augusta National Women's Amateur on April 3-6 prior to Masters Week.
"To have such a high-profile women's amateur event here really steps up our profile as a team because we are getting more attention as a group because other coaches want to get the scoop on the area and the courses," Hegg added. "It is giving us a chance to brag about what we have here as far as our facilities, the courses and the wonderful city of Augusta."
The Augusta National Women's Amateur will give Augusta University's women's golf team a natural boost, she said.
"It is going to continue to help us grow as a program," Hegg said. "After all, this is now the place where every young amateur golfer wants to be at the beginning of April, to play in this prestigious event."
The Augusta National Women's Amateur is a great addition to women's golf, Teresa Diez-Moliner said.
"It's so exciting to see that here in Augusta," she said. "In fact, we know two of the Spanish players that are going to play in the tournament, so that will be fun to watch."
Getting the opportunity to play at Augusta National is every golfer's dream, Cecilia Diez-Moliner said.
"There are no words when you play at Augusta National," Cecilia Diez-Moliner said. "It's incredible. As a team, we are lucky to be allowed to play the course once a year. And I will never forget my first time playing there when I was a freshman. I remember I was walking the course and I was thinking, 'I don't want to hurt the grass.' That's how beautiful it is there. It's amazing."
A Bright Future Ahead
As the women's golf team faces several busy weeks, Hegg said she couldn't be prouder of her players.
"As a coach, we care about our players and we always give them our best, but you don't always have a connection to them," she said. "But these girls, all eight of them, I have never had a team that has been so positive, so connected and so caring towards one another. I am really grateful to have them."
Not only are these women outstanding players on the golf course, but they also excel in the classroom, she said.
"Every player on our team had above a 3.0 last semester. In fact, last semester we had a 3.57 GPA as a team," Hegg said. "So it's really great to have a team that is not only having success and growing and improving on the course, but also showing that they are taking care of their business."
And according to the Diez-Moliner sisters, Augusta University wouldn't be the same without the support of Hegg and Assistant Coach J.P. van der Walt.
"We love our coaches. They give 150 percent for the team and they are always here for us," Cecilia Diez-Moliner said. "If we need them, we can always call them. No matter what, they always have our backs."
The women's golf team is all about supporting each player and making the group stronger as a whole.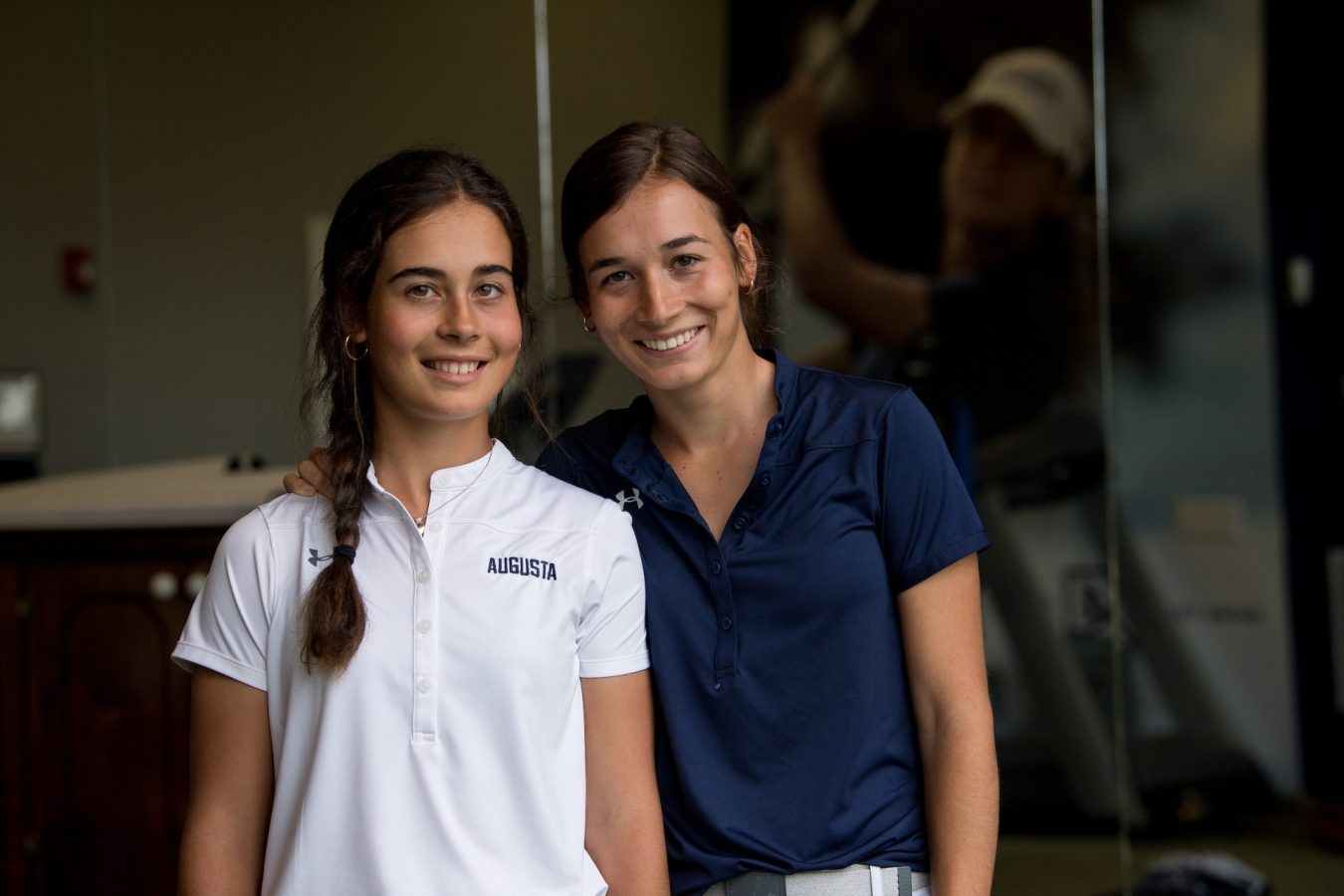 The Diez-Moliner sisters are a crucial part of that team, Hegg said.
"Those two girls are sweet, they are funny, they are passionate about golf and having fun. And, as long as we can wake Cecilia up in the morning, everything is fine," Hegg said, laughing. "That's what she's famous for. The minute we get into the van, she's sprawled out on that van sleeping. And the minute we get on an airplane, she is passed out asleep in the corner. So it's kind of the running joke, 'How long will it take Cecilia to fall asleep?'"
As Cecilia Diez-Moliner nears the end of her senior year, she is preparing to graduate with a finance degree. But she is also reviewing her options about becoming a professional golfer.
"I'm about to graduate and I'm so sad," Cecilia Diez-Moliner said, smiling at her sister. "I am feeling sad because I'll miss the team, but I'm also excited and I'm considering my options."
No matter what lies ahead, Hegg said the two women have an extremely bright future.
"The Diez-Moliner sisters have a special place in my heart," Hegg said. "I am not afraid to challenge them and I am not afraid to push them because I know that they will respond positively.
"And I tell all of my players, 'Once you graduate, you are not done with me. I am going to be there for you. I'm going to be cheering for you and I'm also going to be there making sure you're doing the right things going forward. I'm not going anywhere.'"