Augusta University and AU Health leaders celebrated the opening of the new  Augusta University Care Center Fury's Ferry on Dec. 12.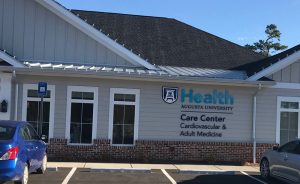 AU Health is providing primary care and cardiovascular services to Columbia County through this new 6,450-square-foot ambulatory care center at 587 Fury's Ferry Road in Martinez. By increasing its presence in Columbia County and focusing on growing its primary care offerings, AU Health is better prepared to meet the high demand of this rapidly increasing population.
The Augusta University Care Center Furys Ferry is another step in an overarching plan to offer care where patients live and work and to provide it more efficiently.
As the only academic health center in the region, AU Health offers cutting-edge, evidence-based, and, most importantly, quality care to patients and families. In addition, patients benefit from improved access, carefully coordinated care, and digital innovations that AU Health brings to the community through unique partnerships with Philips, Cerner, and Beckman Coulter.