While Augusta University Online is still at least a year away from officially welcoming its first students, the foundation and cornerstones are quickly being laid.
The primary goal for Augusta University Online will be to provide the growing number of Augusta University's online learners with a connected classroom fostering active, experiential learning, making the balance between working and learning easier to manage and creating access to excellence for Georgians and beyond.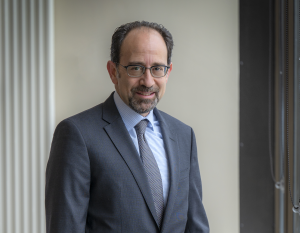 In the process of laying the foundation for Augusta University's newest college, Dr. Marc Austin, associate provost and dean for Augusta University Online, wants to make sure Augusta University Online will become a national model of excellence in online education.
"There is a groundswell for online learning. Students of every background rightfully expect access to the university through some form of online experience, and the faculty now are a lot more familiar with the technologies that allow us to connect with students not in the physical classroom. It's a big change," Austin said.
"We're creating a whole new modality of work, and while online education has been under development for a long time, there's a willingness on the part of entire university to innovate and think differently about how we engage students through online."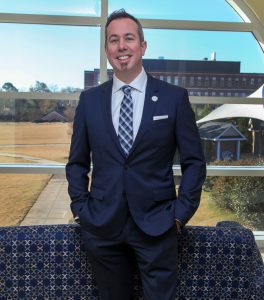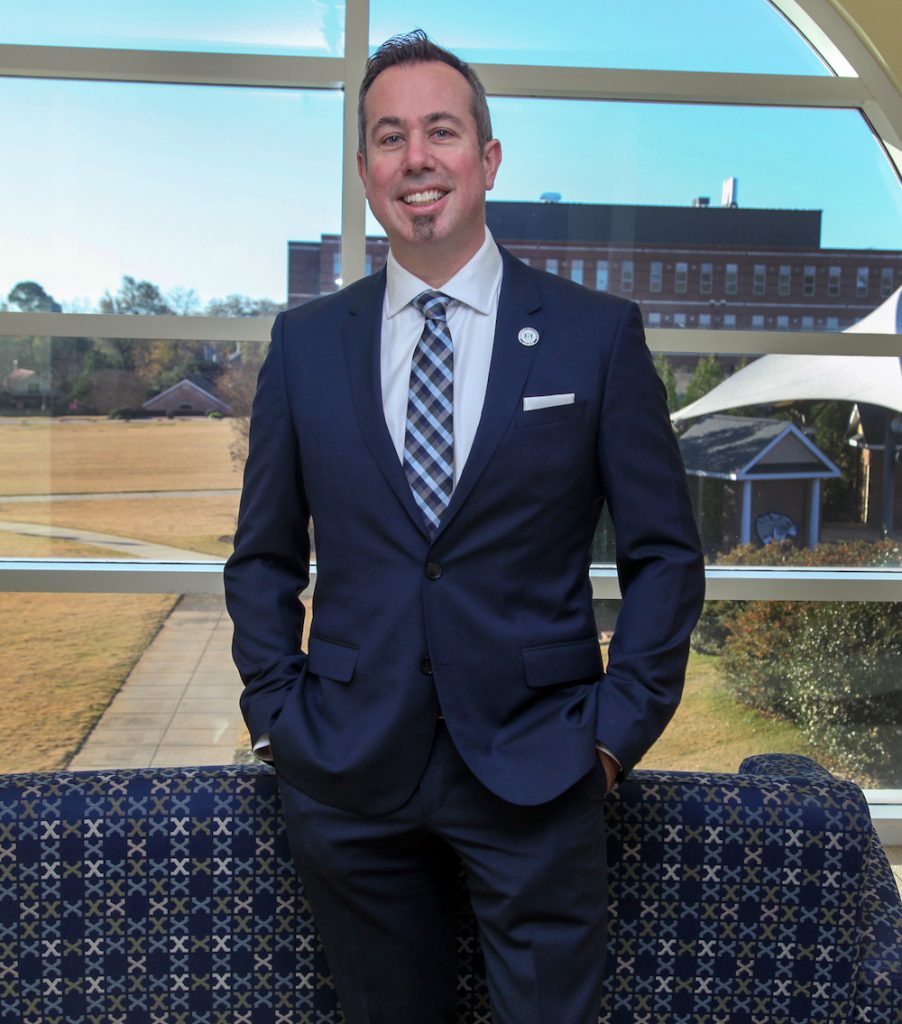 Austin is working diligently to build out the framework for the unit, including establishing the infrastructure and vision, all tied to the university's newly launched strategic plan: Creating a Legacy Like No Other.
"Over the past year, collectively as a university, we have worked on developing the next strategic plan for the university to guide us over the next five years," said Dr. Neil J. MacKinnon, Augusta University's provost and executive vice president of academic affairs.
"Creating a Legacy Like No Other includes specific mentions to Augusta University Online as it will be one of our major initiatives over this time. I'm thrilled with the progress that Associate Provost and Dean Marc Austin has already made in just a few, short weeks, and I can't wait for the formal launch of Augusta University Online."
Identifying the online learner
One of the most important parts of the process has been identifying and understanding who the online learners are and will be.
With this in mind, Austin has engaged the services of Tyton Partners and their Center for Higher Education Transformation — a leader in the field of online program management design — to help define the Augusta University Online strategy and learner population.
The online learner is generally classified as the non-traditional student. Oftentimes, they are working to balance work, home, family and the pursuit of an education. To accommodate this balance, they desire access to learning based around their schedule, and that goes beyond the weekly grind of studies, and includes looking at the overall academic calendar, including quarters vs. semesters, and how to build upon previously completed sections and making degrees more of a piece at a time.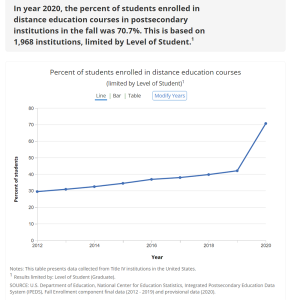 According to InsideHigherEd.com, six in 10 students in master's programs are now enrolled in online or hybrid programs.
The rate of online education has clearly accelerated in the wake of the COVID-19 pandemic. In 2020, according to the National Center for Education Statistics, 72.8% of college students, both undergraduate and graduate, were enrolled in distance education courses across 5,908 postsecondary institutions. In comparison, only 25% of all students were enrolled in online courses in 2012. Among graduate students, 70.7% were enrolled in distance education courses in 2020, compared to just 30% over the same period.
"Part of what will make Augusta University Online so appealing will be the student being able to take education a piece at a time," Austin said. "The model of building certificates for smaller forms of learning that introduce students to the field, but are not a full degree, may offer 'on ramps' to higher education. I'm really excited about the opportunity to break a degree into smaller, more easily consumed units so that it can be accomplished in line with students' busy lives and make degrees more affordable."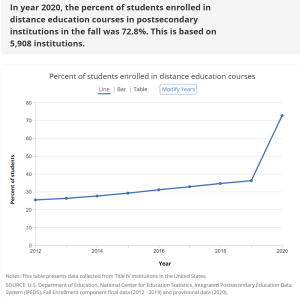 Setting the foundation
To reach the modern learner and to ensure the success of the college — and the greater university — the three building blocks of Augusta University Online include building online opportunities where the need is greatest, focusing on student and faculty engagement and fostering a sense of belonging.
"These building blocks will help us to create a legacy and experience like no other, and they align with the university's broader strategic direction," Austin said. "The building blocks for Augusta University Online are designed around the interwoven priorities contained within the new strategic plan that focus on innovation; engagement; and diversity, equity and inclusion in support of our broader five strategic priorities — as Augusta University Online will reflect that online presence of the university as a whole."
The first of the three building blocks is focusing on need — not just the immediate needs of the online learner, but also the needs of employers to better position Augusta University graduates for in-demand jobs and align our online education to those workforce demands.
"We need to build where the needs are greatest for online learners," Austin said. "That is both in programs that are well-suited to online learning — where the non-traditional student has the greatest demand for a high-quality learning experience — and also where employers have the greatest needs at their organizations. We need to meet the learner where they are and build a model to ensure our efforts support those who need us most. In doing so, we can best highlight Augusta University's greatest strengths as a world-class faculty and university."

A focus on student engagement
One of the key components for a successful online community is the engagement between the student and the faculty. Austin wants to ensure that Augusta University Online offers online students a sense of belonging, noting that education is a two-way street, not a one-way transaction.
"All modes of teaching and instruction have different limitations and constraints, but regardless of the modality, our goal is to achieve high levels of student engagement in their learning journey," Austin said.
"New technologies offer an array of methods for faculty to engage students in the social and pedagogical aspects of learning, but none of those new technologies will make a difference if the faculty providing instruction are also not fully engaged in the effort. To achieve a national model of online education, we must first and foremost drive learner engagement, which begins with identifying and fostering faculty who are committed to making the learning experience a success."
Fostering a sense of belonging
Working hand-in-hand with engagement is making sure that Augusta University Online students feel a sense of belonging to the university as a whole. One of the key components for Austin will be ensuring the online learner feels connected to Jaguar Nation.
"Online learning can feel isolated or distant at times. We need to foster an inclusive model for online learning that makes the student feel connected with and supported by the university and their fellow learners," Austin said.
"This comes from not only participation with faculty and students who come from similar circumstances, but from a sense of security and support in the learning process. We can help with that sense of security by building wraparound services which embrace the broader concerns that students have outside of the classroom itself. These student support services remove barriers, foster dialogues and ultimately help the learner earn their degree. We call this the connected classroom — connections with faculty, with employers and with each other, all underpinned by a support structure that helps them feel connected."
Be a part of the process
For now, the Augusta University Online landing page is a work in progress that will serve as a way for Austin and his staff to share updates about the progress of the college. Included on the page is a frequently asked questions section.
Part of the process of building this new college is listening, and Austin hopes faculty, staff and current and prospective students will lend their voices to the "Ask a Question" section at the bottom of the page. This will help to not only fill in information, but also to shape what is relevant and important during the build.
Austin and his growing staff will be providing additional focus groups, surveys and town halls to engage the AU community in the shape and future of Augusta University Online over the coming months.