Asian American, Native Hawaiian, and Pacific Islander Heritage Month can trace its origins to 1977 when New York representative Frank Horton introduced the idea, and the following year on Oct. 5, 1978, President Jimmy Carter signed the week-long recognition into existence.
At the time, the first 10 days of May marked Asian/Pacific American Heritage Week.
In 1990, Congress expanded the observance to an entire month, and in 1992, May was officially designated Asian/Pacific American Heritage Month. It was renamed Asian American Pacific Islander Heritage Month in 2009, and Native Hawaiian was added in 2021.
In recognition of this month, Augusta University celebrates the first Asian American woman to graduate from the Medical College of Georgia at Augusta University, Dr. Margaret Wong Mola.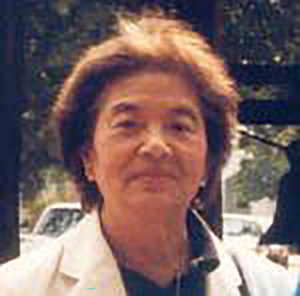 Adapted from the original Beeper article (April 5, 2001) by Katja Sipple
Dr. Margaret Wong Mola always knew she wanted to be a physician. Born to Chinese immigrants in Augusta, her family owned a grocery store on Laney-Walker Boulevard, next to what is now the Robert B. Greenblatt, M.D. Library.
Her parents' store also had a small cafeteria where students, physicians and nurses would meet and get a quick snack during their lunch breaks.
"I was always in contact with the medical community at MCG and University Hospital, and I guess that's how I became interested in the medical field," Mola reminisced. "Of course, my mother also stressed education. She wanted me to go to school and become a doctor, because her father had been a doctor in China."
After graduating from Tubman High School in 1940, she attended junior college at Richmond Academy and received a scholarship to complete a third year of pre-medical studies at Mercer University in Macon, Georgia.
"I had applied to the Medical College of Georgia after finishing junior college, but Dr. Lombard Kelly, the dean, told me that I was too young to apply and should wait one more year. That's why I went to Mercer," Mola said.
Mola was admitted to MCG's School of Medicine in 1943 — one of only five women admitted that year — and became MCG's first Asian American student. She entered the accelerated program because the United States was at war and desperately needed qualified physicians. Although admission to MCG had been open to women for only about two decades, she said she always felt comfortable.
When asked about her pioneer status, Mola simply shrugged her shoulders and laughed saying, "All the professors were very nice to me and I had a great time in medical school. There was one professor who kept saying that women are not supposed to be doctors, but he still treated us very nicely and probably nicer than the men."
Despite being a natural citizen who grew up in the area, her professors sometimes made presumptions about a possible language barrier. Assuming that she might have trouble understanding, professors encouraged her to ask if she did not understand something or needed help. "Of course, I had no problem understanding English, because I was born here, but I was not offended; they were just trying to be helpful."
She also won the affection and the respect of her classmates, many of whom were serving in the military, who treated her as an equal.
"One of my classmates had just become a father and passed out cigars and everybody said, 'Give one to Margaret,' and I lit it," Mola said with a chuckle.
Mola graduated in 1946, at age 22, and decided to move north to pursue her internship in general medicine at Alexandria Hospital in Alexandria, Virginia. She then completed her residency training in obstetrics and gynecology at Prince George's Hospital in Maryland and in general medicine at Washington Hospital in Washington, D.C.
After finishing her training in 1953, Mola accepted a job with the Department of Human and Health Services in Washington, D.C. and served as a general physician in institutional practice at the Children's Center in Laurel, Maryland, until her retirement in 1985. Despite the hardships, she found reward in her work at the Children's Center, a facility for patients with mental disabilities and children and juvenile delinquents.
"The children realized that I was there to help them and that was very gratifying," Mola said.
Mola returned to Augusta in 1987 to spend time with her family. She enjoyed her retirement and even traveled to Hong Kong.
Mola passed away on Dec. 27, 2008.
Inside diversity statistics at Augusta University
In fall 2020, 11% of Augusta University's total enrollment of 9,606 students identified as either Asian, Native Hawaiian or Pacific Islander. Those numbers included 625 women and 420 men who identified as Asian, and eight women who identify as Native Hawaiian or Pacific Islander.
American, Native Hawaiian and other Pacific Islander made up 7.61% (275 women, 143 men) of the 5,496 undergraduate students registered compared to 6.63% (87 women, 54 men) of the 2,126 graduate students. The numbers jumped to 26.93% (215 women, 148 men) within the 1,348 professional students, and 20.13% (53 women, 75 men) of the 636 post-professional students.
This is the second installment of the "Trailblazers: First women of MCG" series. Look for upcoming stories about these MCG trailblazers on Jagwire.