The COVID-19 pandemic may have canceled sports matches and practices, but the outbreak hasn't stopped the athletic trainers at Augusta University Jaguar Sports Medicine from providing care to the community.
For nearly a month, Augusta University Health's athletic trainers have shifted from their daily jobs of working with student-athletes to conduct COVID-19 screenings on patients arriving at Augusta University Health's West Wheeler Practice.
Lisa Branon, supervisor of Orthopaedic Ancillary Services at Augusta University Health, says the athletic trainers quickly adjusted to meet the needs of the health crisis and have dedicated countless hours to ensure the health and safety of patients and employees.
"With the rising cases of COVID-19 in our state and city, we felt this was an 'all-hands-on-deck' situation and we wanted to do our part to help slow the spread of the virus," said Branon. "These athletic trainers would have been working in the school systems right now, but they were ready to spring into action to assist the clinics because we're all in this fight together."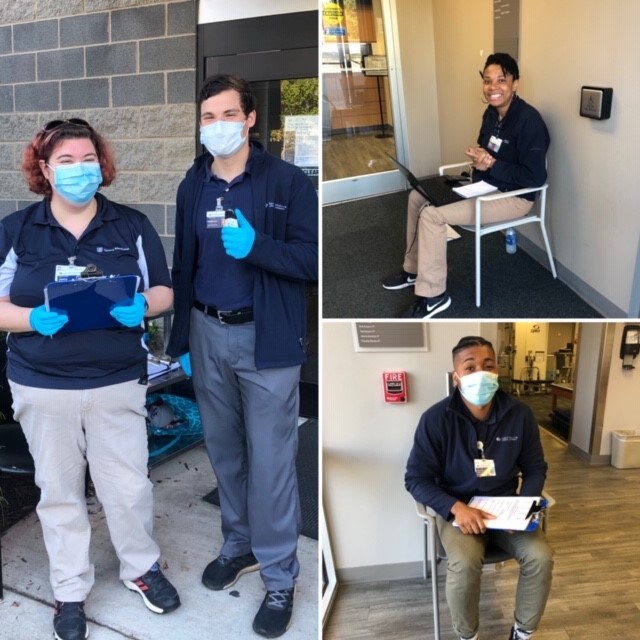 When patients arrive to the clinic for appointments, a member of the sports medicine team will ask them questions on common symptoms of infection and duration, including fever, cough and shortness of breath, as well as questions related to risk of virus exposure.
Patients who screen positive will be directed on appropriate next steps, which includes rescheduling their appointment and being given information on the AU Health COVID-19 Express Care app. Those who test negative will be allowed in the clinic and are seated in the waiting area 6 feet apart.
As of April 8, the athletic trainers have screened 1,800 people. Tim McLane, lead athletic trainer for Augusta University Jaguar Sports Medicine, helps to coordinate the COVID-19 screenings at the door and says he is grateful his team can offer medical support during this challenging time.
"We are the first line of health care for athletes on the field and we saw this crisis as an opportunity for us to be on the front line for our community," said McLane. "Our athletic trainers are national board-certified health care professionals and we are glad to be a part of the AU Health team in providing high-quality care to those in need."
As part of the systemwide changes due to COVID-19, Jaguar Sports Medicine's Ortho On-Demand clinic will now only be open from 1-5 p.m. Monday through Friday for walk-in care to those with sports, work or home-related musculoskeletal injuries. Patients will still be evaluated by the university's highly skilled sports medicine team, which includes an orthopaedic specialist, physical therapists and athletic trainers. However, patients are encouraged to call and schedule an appointment with the appropriate Orthopaedic specialist if their injury isn't new or urgent.
Learn more about Augusta University Jaguar Sports Medicine and read the latest news on COVID-19 on our dedicated resource page.