In previous years, June at Christenberry Fieldhouse has been filled with hundreds of children attending one of Augusta University's numerous annual sports camps.
For the first time in a while, thanks to the COVID-19 pandemic, those camps are not being held.
"It's very odd that camp is not going on in June," said men's basketball coach Dip Metress, whose camp usually plays host to more than 100 children.
"We have had the camp at Augusta the whole time I have been here, but we will miss not having the camp. Our current players and past graduates have worked the camp and it is a great time to connect the players with members of our community. We have had kids that have gone to camp for up to 10 years in a row and it will be a shame to not see their growth as a player and person."
Men's and women's golf coaches Jack O'Keefe and Caroline Hegg had made plans to expand the Augusta Golf Camp to two weeks this year to accommodate the increased interest in the sport.
"We are extremely disappointed that the Augusta Golf Camp had to be canceled this year," O'Keefe said. "We truly enjoy having all of the junior golfers at our facility for a fun, educational week of golf camp."
Hegg understands and supports the decision, but she's missing the "fun escape" of the camp.
"I've worked golf camps in some way or another since my freshman year of college, and it's something I really miss," she said. "Camp is always a fun escape from the competitive grind we go through, especially during the postseason."
Women's basketball coach Millette Green said she would have been finalizing plans for her elite and team camps. She mentioned they were going back and forth about their final camp in August, but "I respect the university's decision to cancel all summer camps this summer."
"(The camp) is a great recruiting tool for our program," Green said. "We have four players on our current roster that have been recruited from one our camps."
Softball coach Melissa Brocato said they started doing one-day prospect camps last year and were in the process of finalizing dates when the pandemic shut everything down. She said once it was decided that classes would be online for the summer, she assumed camps wouldn't happen.
Volleyball coach Sharon Quarles said the past three months have been anything but normal and she also understands not having camps this summer.
"As much as we enjoy running camps every summer in hopes to grow the sport of volleyball in the CSRA, we completely understand and support canceling them this year," Quarles said. "As much as the campers were disappointed to hear that, they completely understood. We're looking forward to picking it back up next summer."
Lack of closure
The winter and spring sports seasons did not get a proper finish to their seasons. The men's basketball team was checking into their hotel near Lincoln Memorial in Tennessee for the Southeast Regional when the NCAA canceled the tournaments. They spent the night and came back to campus the next day.
"Closure is always hard with any team and since we only had one senior, we are affected differently," said Metress of Rafael Monteiro. "We were able to do pictures with Rafa in his cap and gown on campus so it was an abbreviated celebration. … In that 24-hour span (in March), a lot changed."
The baseball and softball seasons were a third of the way finished when the seasons were canceled. For Brocato, not being able to have a proper finish with her team was both strange and sad.
"I'm disappointed for the seniors, mainly, who didn't get a chance to have a proper ending to their careers," she said. "I'm sad that I can't do anything to change it. But we as coaches and players are all in the same boat with this. I'm not always sure how to feel or what to do since we've never been through something like this before."
O'Keefe and Hegg were getting ready to play host to their tournaments when the pandemic took over. Hegg admitted to being in a state of shock because "things ended so abruptly."
"We were waiting for teams to arrive for our tournament that Thursday morning, and by the end of the day, our season was canceled and we were helping our student-athletes get home as soon as possible," Hegg said. "I'm very sad for our team, because we were peaking at the right time and really looked like we could have our best season ever. I'm especially sad for our two seniors, Linda (Lundqvist) and Charlotte (Alran), who worked so hard for four years and didn't get to end their senior years properly."
Fortunately for Alran, she will be part of the team next year because of the redshirt policy the NCAA enacted for spring sports.
O'Keefe also feels bad for his players and noted they all just wanted to go home immediately after the season was canceled.
"We had just won our second tournament in a row and were hitting a big stretch of tournaments with some confidence," he said. "With all that happened in a short period of time, it was a very strange way to end the season."
Finding new ways to recruit
During the past few months, all of the coaches have been working both individually and collectively to evaluate their programs, improve their teams, learn new teaching methods and ensure current players are up to speed on workout schedules.
The NCAA has extended the "quiet period" through the end of July, which means no in-person, off-campus recruiting allowed.
Brocato, who is also the assistant athletic director for internal affairs, said she is caught up on all of the university and NCAA compliance trainings. Hegg said she has been able to stay busy with committee work since April, but was also able to recruit via phone, text or FaceTime, as has O'Keefe.
Green said personally, she's been challenging herself to explore new things weekly, from "cooking new dishes, new workouts, investing, reconnecting with people, and whatever sounds clever for the week."
Green was able to have several players visit before the pandemic and has been able to announce several signings to the team since then.
"The unprecedented times required us to be more creative in painting a picture for the prospects through virtual tours, connecting with the coaching staff and players over the phone, and so forth," Green said.
Metress said he has not made any changes with the exception of no visits.
"Recruiting is something you have to do every day, and that has not changed," he said. "We have watched an enormous amount of videos on kids as we try to wrap up recruiting for this year and start focusing on next year's class."
Quarles has been staying connected with her recruits via email, phone and texting.
"We have been directing our recruits to admissions to watch their virtual online tour of Augusta University, which has been a huge positive," Quarles said. "We have just got word that we can have recruits come on campus for visits and I have already started the paperwork for some visits."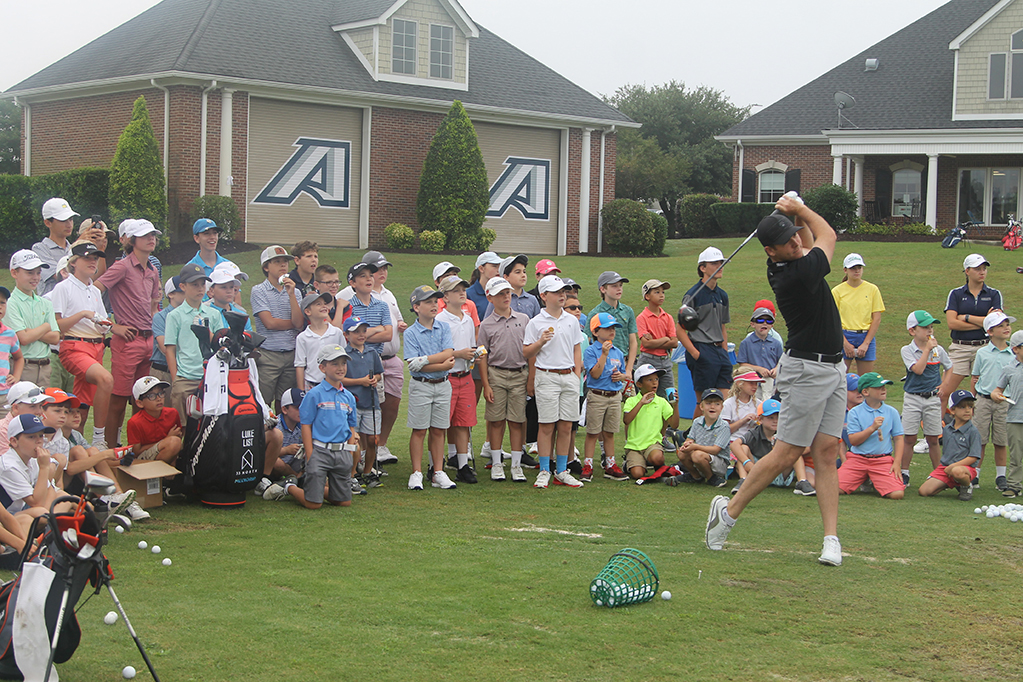 Preparing for a new season
Both O'Keefe and Hegg said the biggest priority moving forward is providing safety and well-being for the student-athletes by maintaining social distancing and keeping equipment clean.
"We're going to have to make sure our student-athletes have the supplies they need to keep themselves and their equipment as clean as possible," Hegg said. "Travel will be a whole other challenge as we figure out how to keep ourselves and our athletes as safe as possible. At this point, I don't foresee us having group workouts as we have in the past, so we're trying to get creative with how we can hold our players individually accountable for those sorts of activities. The only thing I know for sure is that we won't be able to operate as we have in the past, so we will be ready to adapt and be resourceful."
Green said as they try to prepare for the new norm, it's going to be challenging, because no one knows what the "new norm" will entail.
"Division II reduced the maximum number of contests from 28 to 22 games with a conference schedule of 20 games, so we will only have two nonconference games, which will create a larger window between games," she said. "I always preach, 'control what you can control.' The players should be focusing on what they can control like their conditioning, strength, speed, ball handling and footwork. As a coaching staff, we will be ready to adapt as needed to put us in the best position to reach our goals."
Quarles has been staying connected with coaches and potential players during the time away from Christenberry Fieldhouse. She's waiting to see what the guidelines and parameters will be when everyone returns to the classroom and the playing field.
"Obviously, the health and safety of our student-athletes are a top priority," she said. "I am confident that every area will be looked at as a matter of concern, which is a good thing. We as coaches will do what is needed and adjust where we have to and see what the 'new normal' looks like and go from there. We have to be flexible. It will just be nice again to get back into the gym and start playing again."
Brocato isn't sure being a spring sport has any advantages or disadvantages at this point, aside from buying some time to work out all the logistics of a new norm. She doesn't see there being much of a change in scheduling or workouts other than the safety measures that will need to be taken.
Metress said one the first challenges he foresees is connecting the new players with the returning players.
"Also, our players have gotten out of their routine of being a student-athlete, so that will be a change for them," he said. "It will almost be five months from the time they packed their stuff to leave campus and they return in August. Five months is a long time, but we are excited about getting back to our commitment to going to a third NCAA Tournament in a row."