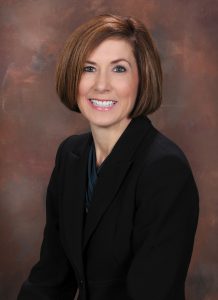 Eileen Brandon, an accomplished fundraising and marketing communications executive with more than 25 years of experience, has been named associate vice president for philanthropy at Augusta University, effective May 1.
Brandon joined Augusta University in 2006 as the director of Development for the College of Nursing, and she has served the university in several capacities during her tenure, including her current role as executive director of Foundation and Corporate Philanthropy. In this position, Brandon directed corporate and foundation giving, supervised major giving for the Medical College of Georgia in Atlanta, as well as the Georgia Cancer Center, and secured major gifts to support the priorities of the Augusta University enterprise. As a result of her leadership, her comprehensive proposals to donors resulted in multiple six- and seven figure gifts from foundations, corporations and individuals.
"Throughout her time at Augusta University, Eileen has demonstrated exemplary leadership, and her broad experience in philanthropy and alumni engagement is a valuable resource to our institution," said AU Vice President for Philanthropy & Alumni Engagement Deborah Vaughn. "I am confident Eileen will further elevate the university's fundraising efforts and I look forward to continuing working with her as we embark on bigger and bolder fundraising initiatives."
As the associate vice president for philanthropy, Brandon's duties include managing Augusta University's Corporate and Foundation Engagement program, overseeing the Philanthropy & Alumni Engagement communications team and developing strategies to solicit, steward and engage donors for Augusta University and Augusta University Health. She will continue her supervisory role with the Georgia Cancer Center and MCG in Atlanta, as well as her existing donor relationships.
Brandon earned her bachelor's degree in journalism from the University of Georgia and a master's degree in public health from Augusta University.