Deborah Stafford Vaughn, an executive with more than 21 years of development experience in higher education, has been named Vice President for Development at Augusta University, effective Oct. 22.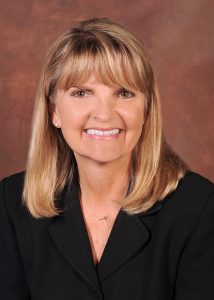 In her new role, she will be responsible for the overall leadership of development at Augusta University and AU Health and will serve as a member of the President's Cabinet, providing innovative leadership for the development, constituent and alumni relations and advancement communications. She will work closely with AU's three partner foundations to help ensure advancement goals are met as a critical part of the ambitious growth outlined in the university's strategic plan, Beyond Boundaries.
"Deborah will be an outstanding addition to the leadership team at Augusta University," said Russell Keen, EVP of External Relations at Augusta University. "She brings with her an impressive track record of success in both public and private university settings and experience in strategic management of institutional fundraising campaigns in multiple universities across the Southeast."
Most recently, Deborah was associate vice president for development at the University of Alabama, where she was responsible for the strategic management of the Office of Development within the Division of Advancement, including all college and school-based development officers, central development officers, corporate and foundation relations and annual giving.
"I am excited to be joining Augusta University, an institution that is clearly on the move," said Vaughn. "I am so impressed with the caliber of people who make up the Augusta University family and look forward to working closely with all of them — faculty, staff, alumni, board members, and our community and state champions — to advance their interests through strategic growth of our university and health system."
The planning process for a new, ambitious comprehensive capital campaign for Augusta University and AU Health is underway, and the new VP for Development will play a major role in its development and execution.
"I welcome Deborah to my leadership team," said President Brooks Keel. "Her demonstrated creativity, vision and strategic leadership will no doubt significantly enhance our mission to serve the students and patients who entrust their education and healthcare to us."
 DOWNLOADS:  Click to view a high-resolution photo of  Deborah Stafford Vaughn and use the password "media" to download the image.