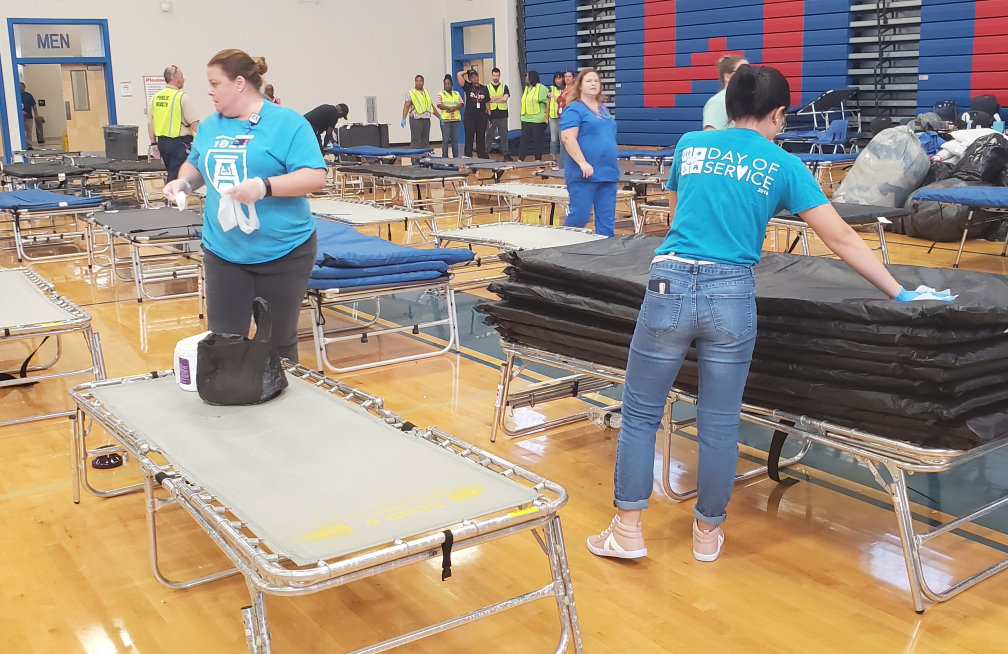 For Augusta University Master of Nursing student Franki Tawil, evacuating for hurricanes has been pretty commonplace.
A native of Miami and former resident of Hilton Head and Savannah, Tawil and her family frequently loaded the car with clothes, the dogs and snacks and headed inland to visit family, do something fun or even go to Disney World, if it wasn't in the storm's path.
Volunteering at Westside High School this week, she saw Hurricane Dorian from a completely different angle.
The school serves as a functional needs shelter and many of the people Tawil worked with came from personal care homes, or in some cases, were homeless. Tawil and other AU students and staff assisted them with daily living tasks ranging from dispensing medication to taking a shower. Some of them only needed a sympathetic ear.
"We're fortunate enough to go to a hotel or a family's house. These people have nowhere else to go," she said. "The partnership with Augusta University gives them an outlet they might not have otherwise."
The shelter is one of several evacuation shelters across the county and is a joint effort between Augusta University, Richmond County, the Board of Education, Richmond County EMA, Richmond County Department of Public Health, the Red Cross and Chatham County. Evacuees boarded buses in Savannah and were assessed for medical needs during the trip. At Westside, they arrived to find assigned beds, supplies and medical volunteers waiting for them. A large television kept them updated on the weather and news back home, while in a corner, they had access to music and card games.
The functional needs shelter at Westside was an effort to keep the hospitals from becoming overcrowded with evacuees who may need medical care during their stay, said Michael Willis, EMS coordinator at Augusta University Health.
This is the third time the above-mentioned agencies have joined forces to care for those displaced by a hurricane. After hurricanes Matthew and Irma, the agencies came together to discuss how efforts could be improved for the next event. The assessment on the bus for Hurricane Dorian is one product of the meeting after Irma, ensuring an even smoother transition into the shelter.
"We always have a debrief afterward with the department of public health and EMA and AU's Medical Reserve Corps, and we talk about what to do differently, what would make things better, and what do you think we need to have ready to go, and you can really tell we've been having those meetings," said Dr. Jean Pawl, department chair for the Department of Biobehavioral Nursing.
She said this experience teaches students more than they will learn in any textbook or typical clinical setting. Students get to see firsthand how patients manage these types of functionalities at home versus in a hospital setting, where access to supplies and assistance are readily available.
"It gives (students) a different perspective on what they might have to struggle with," Pawl said.
Tawil agreed. For her, she gets to test her mettle without needing to go through various channels as she would in a clinical setting, where each interaction is supervised by an instructor or medical personnel. Though doctors and instructors are there if she needs help, she simply gets to help people to the best of her ability.
"It's knowing that if there's not someone else there to help me do it, I can do it. It's that extra boost of confidence. And (the people are) able to help you help them," she said.
Augusta University President Brooks A. Keel, PhD, stopped by on Wednesday to tour the shelter and to tell the volunteers how proud he is of the work they are doing.
"Part of being a medical university is giving back to our community. This is a great opportunity to see the wonderful work our faculty and students are doing," he said. "I'm incredibly proud of this university."
On Thursday, Augusta University Health System CEO Katrina Keefer and CFO Yvonne Turner also toured the shelter.
"I hate we're getting good at it, but I'm glad we're getting good. I hate that we're having to get good," Keefer said. "It's an impressive operation that's important to our state. It's being utilized as a model not only in our state, but throughout our country and our world, as they were mentioning it being presented at an international conference. I loved (Willis') quote that our sweat here is improving everyone's experience, every time, everywhere, and I think that's what educational institutions do."