Written by: Haley Hadden, Contributing writer and Media Relations Intern in GRU's Division of Communications and Marketing

For the fourth year in a row, the Georgia Regents University Respiratory Therapy program is hosting the Augusta Area Asthma Camp, a free educational camp for children with asthma. However, this year, the Augusta GreenJackets baseball team is getting in on the action.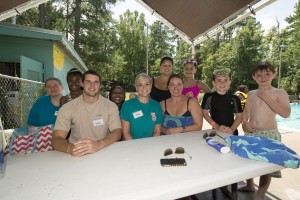 The camp is funded by the W.G. Raoul Foundation and will be held July 20-24 at the Girl Scouts of Historic Georgia's Camp Tanglewood located 4687 Columbia Road in Augusta. According to Kitty Hernlen, Associate Professor in the GRU Respiratory Therapy Program, the camp is an interactive experience giving campers the chance to learn to how manage the asthma while being active and making new friends.
"We are expecting about 60 campers this year and we are grateful to have the support of the Augusta Greenjackets," Hernlen said. "Many of the campers have told us that they enjoy the camp, because they don't feel singled out or embarrassed about having asthma since everyone there has asthma."
The meet and greet with the GreenJackets will be held Wednesday, July 22, at 10 am. Howev-er, during the weekend of July 25-26, campers will head to the Lake Olmstead Stadium to run the bases with the players and stand with the team for the national anthem before their game against the Delmarva Shorebirds.
Other camp activities include asthma management sessions,
swimming, hiking, and arts and crafts. Camp counselors and alumni of GRU's Respiratory Therapy Program will be on hand to help monitor the campers for signs of asthma attacks.
For more information, contact Kitty Hernlen at 706-721-3554 or khernlen@gru.edu.