By his own admission, Augusta University alumnus James A. Richardson Jr. was not mentally prepared to start college. However, his professors here played a crucial role in motivating him to succeed, not only as a dual major, but also throughout an award-winning, prestigious career with the United States Air Force and Department of Defense.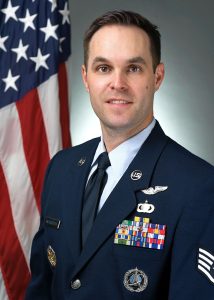 When his dad was stationed in Germany, a good friend of Richardson's introduced him to hockey at age 7. What started out as just a love of playing street hockey eventually grew into all things hockey, and he soon found himself playing on a German club team.
When his father had orders to move to Augusta, Richardson had no idea whether hockey was popular here.
"We didn't quite have the technology of Google or social media readily available at that time, and I went into it hoping that I'd have a chance to continue playing," said Richardson, who was a public affairs specialist in the United States Air Force before he transferred from active duty to reserves this month. "Fortunately for me, the Augusta Lynx announced that they would have their first season the same year we moved and that Augusta was also building a local ice rink."
From that moment on, he found himself coaching despite being only 14 years old because his skill level was better than most players his age. He was granted permission to play in the adult league with athletes who played most of their lives. From there, he met a lot of players who were passionate about growing the game and was invited to coach youth hockey.
"The problem for me was I hoped to play hockey at a big Division I school that would not only give me a world-class education but also help my future in hockey," Richardson said. "The one and most important variable that I knew but tried to suppress, was that my dream may be nonexistent because I live and played in the southeast."
Distracted and unmotivated
He didn't get many offers to play hockey collegiately and, clinging to the hope of playing for a big school but also not wanting to miss out on going to college, he applied to then Augusta State University and started taking classes in fall 2004. He quickly found his mind was elsewhere.
"I wasn't focused on anything that was being taught … Instead I was focused on practicing hockey and making friends — definitely the wrong things to focus on in college," he said. "After a year and a half of giving the bare minimum, I found myself with a failed hockey career, my parents cutting off my educational funding, and worst, the prospects of being disenrolled with a subpar GPA. It was then that I knew I needed to get my head right."
Richardson's path came into focus when he was taking a history of Canada class taught by Dr. Ruth McClelland-Nugent. She pulled him aside after returning a poorly written paper on the history of hockey and bluntly said, "I had high hopes for you with this paper because I know you love hockey, and I have to say, I'm kind of let down."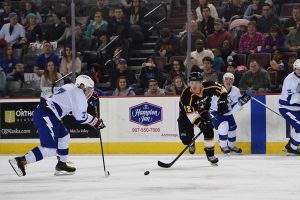 "If there was any moment in my adult life that put me on the path to success, it was that one. How could I coach the fundamentals of hard work to my youth hockey players if I wasn't living by that mantra as well?" he said. "Most importantly, what was my life going to look like in five to 10 years if I couldn't give 100% to a history of hockey paper? From that moment on, I gave everything that had my name on it 100%."
McClelland-Nugent now serves as associate professor of history and interim chair of the Department of History, Anthropology and Philosophy in Pamplin College of Arts, Humanities and Social Sciences. She is always happy to know she made a difference to a student, adding that faculty work hard to take a personal approach with history majors in everything from succeeding as students to developing career goals and skills, she said.
"Some students need more of a life coach to help them think through what their goals are and how to get there," she said. "Some students need more of a hockey coach to demand more. I remember that James played hockey before he came to ASU, now AU, so maybe I picked that approach because it seemed what he needed. In every case, I want to help students unlock what it takes to fulfill their potential."
Determined and driven
Richardson pursued a dual major in political science and history, two subjects he gravitated toward throughout his life. He said as a child, he was fascinated by George Washington and the U.S. founding fathers. He felt that while not perfect, they exemplified hard work, perseverance and sacrifice: "Something that I was raised to appreciate and live by."
When he finally got his mindset right, he felt it was fitting to focus on those two subjects to prepare for a possible career in law. While he never went down that road, he still considers the prospects of going to law school one day and works "to preserve the foundation of law they helped create."
"After I graduated from Augusta, I found myself desiring something greater out of life than just doing a 9 to 5 … I felt compelled to service," said Richardson, a self-described Army brat who still considers the area home despite having lived in Washington, D.C., for the past two years. "Military service seemed to be the family profession, with my father representing the sixth generation of Richardsons to wear the uniform. Following my grandfather and uncle, my dad was Army, I joined the Air Force in 2010 and became a combat photographer."
With the exception of playing with his father's camera as a kid, he had never been photographically inclined. However, with the mentality that Augusta University helped foster in him, "I gave it 100% effort and soon found myself excelling." Even though he never had a passion for photography, he realized if he excelled at his job, it would open doors.
"Doors that would allow me the ability to fly, doors that would help me travel the world, and doors that would allow me to experience combat," he said. "In my first year in the Air Force, I won Best Air Force New Photographer of the Year. That allowed me to be considered for the coveted and highly sought-after Aerial Combat Photographer program. From there, I earned my wings and embarked on a career that would grant me the pleasure of flying all over the world in almost every aerial platform that the Department of Defense owns."
In 2015, he accomplished his goal of serving the U.S. in combat, deploying to the Middle East, where he flew in more than 20 combat sorties and conducted many missions on the ground in Iraq with the 82nd Airborne. In 2017, he was named 2017 Military Photographer of the Year and was recognized at the 2017 White House News Photographers Association Dinner, where he received a congratulatory letter from former President George W. Bush.
Ready for the next challenge
Richardson said when presented with an opportunity to experience something new, he always jumps at it. During his time at the Pentagon in 2019, President Donald Trump approved and adopted the Space Force into the Department of Defense, where his office — the Secretary of the Air Force Public Affairs — began spinning up to carry out the task.
With no background knowledge in web or graphic design, his office tasked Richardson with creating the official Space Force website. Nervously, he accepted and worked diligently on the website. Once completed, he then had to present it to Gen. David D. Thompson.
"The first thing he said to me after our introduction during the presentation was, 'I just want to let you know, I'm notorious for breaking things I'm presented but it will be good because then you know what you need to fix.' Fortunately for me, he looked me in the eye afterward and said, 'James, you did great. I can't break anything and it meets everything we're looking for.'
"From there, the website and other initial items were presented to President Trump's office for approval. On Dec. 20, 2019, I sat in an office on Joint Base Andrews as President Trump was in a hangar there, and as he signed the NDAA, I made the website live for the public to see."
Richardson said his decision to transfer from active duty to the Air National Guard is bittersweet but "I did it with my family's best interest in mind."
"While I loved wearing the uniform on a full-time basis, I wanted a different life for my wife and kids. With two toddlers, I wanted to put the focus on them," he said.
McClelland-Nugent stays in contact with Richardson, one of the things she loves most about social media. She enjoys seeing alums go out and do great things professionally and personally, and to share in their ups and downs.
"James is a credit first and foremost to himself, but I am also proud he is a graduate of this university and of the history program," she said. "He's spent many years in the service of his country and his fellow Americans; he also has a great appreciation for other countries in the world. He thinks of others before himself and is willing to make sacrifices for that to happen.
"He's never lost his intellectual curiosity or his critical thinking skills, and I am proud that AU played a part in developing those. I can't wait to see what he does next and am very glad to have played a role in the life of a patriot, public servant, history buff and family man like James."
While he is nervous about this next chapter, he realizes he has the tools to excel and accomplish great things in the civilian sector, tools he said Augusta University helped him develop.
"I'm excited to embark upon a whole new world of possibilities and opportunities," said Richardson, who is relocating to Phoenix to pursue a career in corporate communications. "I want my work ethic and ambition to motivate those under me … I want my story of living life to its fullest to motivate my children to do the same.
"I want my story of perseverance to help anyone who finds themselves at odds with where they're at in life. While I know there will be plenty of challenges in the future, I know that I'm prepared to handle them because of people like Dr. McClelland-Nugent, who took time to help me grow. After all, that's what college is about and I'm forever thankful for my time at Augusta University."