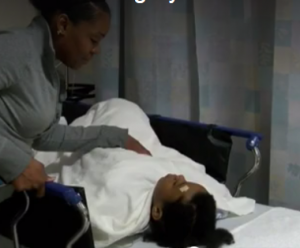 Young Kaniya Collins had a brain bleed four months ago that nearly killed her. But thanks to the teamwork of neurosurgeons Ian Heger at Children's Hospital of Georgia and Cargill Alleyne at AU Medical Center, the 9 year old is doing well today, and the arteriovenous malformation she has is slowly shrinking away.
First, Heger, the chief of pediatric neurosurgery at the Medical College of Georgia, put in a drain in Kaniya's head to relieve swelling in her brain and stabilize her. Following that, Alleyne, chief of (adult) neurosurgery at MCG, prepared the Thomson girl for the gamma knife, which is a precisely delivered radiosurgery to a specific area of the brain. In her case, it was the tangle of blood vessels, known as an AVM, that was threatening her life.
See the interviews and news story on WJBF.