An Augusta University College of Nursing student is Georgia's recipient of a new American Association of Colleges of Nursing scholarship.
Natalia Herrington, who is pursuing a bachelor of science in nursing with an anticipated graduation date of spring 2021, has been awarded $500 to help continue her studies.
The scholarship was created by the Foundation for Academic Nursing, the new philanthropic arm of AACN, as part of their response to the COVID-19 pandemic to help students nationwide who need financial assistance to complete their degrees.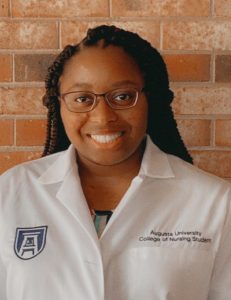 The COVID-19 Nursing Student Support Fund provides a one-time grant to nursing students enrolled in AACN member schools, with priority given to those students in entry-level baccalaureate and master's programs in their final two semesters. Only 51 students from around the country were awarded the scholarship, one from each state and the District of Columbia.
Herrington credits BSN Program Manager Sarah Thomas with notifying her about the scholarship. She is also grateful to AACN for granting her the funding as she works toward completing her degree.
Herrington is enrolled in the primary care nursing course and is working as a summer nurse extern in the neuroscience step down unit at Augusta University Medical Center. She has adjusted to distance learning, saying it has not been without its challenges, but she is thankful for her understanding and dedicated professors.
Due to the pandemic, all clinicals and simulation labs were canceled, leaving faculty to create new ways of engaging the students. While interacting with patients is not possible, case studies have allowed for a deeper development of critical thinking skills.
Herrington decided to pursue nursing out of a desire to help others, specifically providing those in good health the tools to remain so and those in ill health the tools to get well.
"Even through the tough times, I'm hoping to make someone smile and ensure they know I care," she said.
Herrington plans to continue learning from fellow nurses and serving those in need, and she hopes to work with the neuroscience unit after graduation.