New to Augusta University or Augusta University Health? Or maybe you've returned from summer vacation to find a few new changes to the university's badges?
Either way, you'll want to get one of these as soon as possible: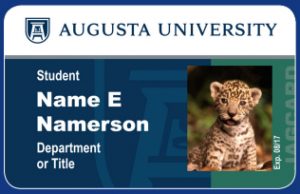 The new and improved JagCard is your key to campus services.
What does my JagCard do?
In addition to serving as a form of on-campus identification, your JagCard is also your ticket to campus life. Literally! Several on-campus happenings, including sporting, Student Life and theater events, offer free entry with the presentation of a valid JagCard. You can even add funds (JagCash) to your JagCard to use it as a form of payment at many locations across all three campuses.
Your JagCard also allows you to:
Purchase a meal plan and save money on on-campus dining options.
Add JagCash funds to your card through payroll deduction.
Manage your JagCard account online at augusta.edu/jagcard. Here you can add funds, purchase meal plans or deactivate fund functions from your card.
Where should I carry my JagCard?
Everywhere (at Augusta University). Your JagCard gives you access to the areas where you work, learn and live.
While optional on the university's Summerville and Forest Hills campuses, JagCards must be displayed on the Health Sciences Campus.
What do I need to remember about my JagCard?         
When you receive your new JagCard, please verify that all of your information is correct.
Your JagCard is a smart card with proximity chips and antennas inside that are used to access various systems. There is sometimes a slight delay between the creation of your new card and the activation of access privileges. Please retain your old card until you are sure that access to all systems is functional on your new card. Once you are sure that all features are functional on your new card, please return your old card.
Many systems become confused when you hold multiple cards up to the access point. Please hold only a single card at the access point for all systems.
It is strongly advised that you carry your JagCard with you on the Summerville and Forest Hills campuses. It must be displayed when you are on the Health Sciences Campus.
Your new JagCard contains sensitive electronics that can be damaged. Do not bend, cut, or punch holes in it.