After serving seven years as dean of The Graduate School, Dr. Mitchell Watsky plans to return to the faculty effective July 1.
Watsky, a professor of cellular biology and anatomy at the Medical College of Georgia, will shift his focus more fully onto his vision research program, which has been continuously funded by NIH since before his arrival at Augusta University in June 2013.
"I am deeply grateful for Dr. Watsky's outstanding leadership as dean of The Graduate School and as a member of Augusta University's senior leadership team," said Executive Vice President for Academic Affairs and Provost Gretchen Caughman. "I know that the entire AU community joins me in thanking him and wishing him the very best as he transitions to focus more fully on his research program."
Watsky will also continue as faculty advisor for the Augusta University Karate Club, which he founded in 2015.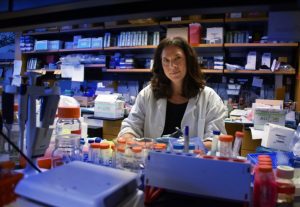 Dr. Jennifer Sullivan will serve as interim dean until a permanent dean is chosen through a national search to begin early this fall.
Sullivan, a professor in the Department of Physiology, joined the Medical College of Georgia in 2000. In addition to directing her longstanding NIH- and AHA-funded cardiovascular pathophysiology research programs, she currently serves as The Graduate School's first-year biomedical sciences PhD program director.
"Dr. Sullivan has been an important contributor to our graduate programs for many years, and we thank her for her willingness to serve in this critical role as interim dean." Caughman said.