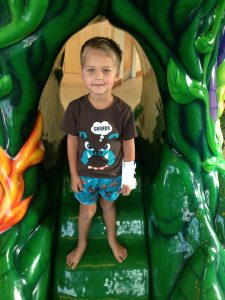 News 12 and NBC 26, the Children's Miracle Network television partners for Children's Hospital of Georgia, will be sharing TV stories each night this week about patients and families who have benefited from the specialized care provided at the area's only children's hospital.
There are currently only 90 known cases of chronic inflammatory demyeliniating polyneuropathy across the world, and Grant Reese is one of them. As a toddler, he could hardly walk, and he always seemed tired, not to mention the itchy red bumps that broke out all over his body. But today, at age 5, Grant is able to play golf thanks to specialized care he receives at CHOG.
Be sure to tune in to the live CMN Celebration on Sunday, Aug. 28, broadcasting from noon to 6 p.m. on WAGT-TV from the Children's Hospital of Georgia lobby.
WRDW/WAGT: Little patients, big miracles: Grant Reese
Aug. 24, 2016