On Wednesday, July 1, Roosevelt Warm Springs Rehabilitation & Specialty Hospitals will commemorate its one year affiliation with Georgia Regents Health System with an on-site celebration for its employees.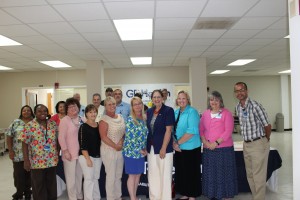 "Two years ago, the Governor invited us to come and see what we could do for Warm Springs, so from July 1, 2013, to July 1, 2014, we came in and helped manage the site and evaluate the situation from a GRHealth perspective," said David Mork, Executive Director and Chief Executive Officer. "Then, a year ago, we created a 501(c)(3) not-for-profit corporation to run Warm Springs. The fear was that the facility would have to close down, but of course that didn't have to happen if we could come in and help bring the hospitals back to life, which is what we're doing now."
Roosevelt Warm Springs, located about 40 miles northeast of Columbus, Georgia, was founded by Franklin Delano Roosevelt in 1927 as a polio treatment center, becoming known throughout the world for the quality of its care. In 1974, the state of Georgia assumed operation of the Foundation hospital, turning it into a medical rehabilitation facility specializing in brain and spinal cord injury, orthopedic and stroke rehabilitation, and other general rehabilitation services.
Currently the scenic, 900-acre campus is home to an inpatient acute care rehab facility and a long-term acute care hospital, both of which are part of the partnership agreement, and a vocational rehab program that is run by the state.
"The inpatient rehab hospital has a length of stay of about 14 days on average," Mork said. "They come in for intense rehab and then usually about 70 or 80 percent of our patients go directly home."
Patients at the Long Term Acute Care Hospital require more specialized care and consequently have longer stays.
The Warm Springs partnership has allowed GRU to strengthen its connection with the facility, particularly in terms of education.
"When we started, there was quite a bit of education going on, especially in nursing, physical therapy, occupational therapy, and speech therapy," Mork said. "But what we've done over the last year is grow that, increasing the ties with GRHealth and GRU."
Warm Springs added a faculty member in physical therapy about six months ago as well as a faculty member from the physician's side. Additional ties with the physician's assistant program were made about 10 months ago, and Mork said he's currently in conversation with the respiratory therapy program.
"I think it's been a great relationship for everybody," Mork said. "Part of our mission has been to continue to build and strengthen the educational component, and I think we're doing just that."
To view photos from the anniversary celebration, click here.