Judging by media coverage, we could say the world is concerned about violence in Rio de Janeiro.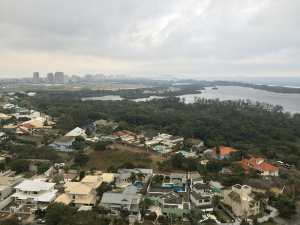 Violence has always been a problem here, as two cab drivers from Rio's metropolitan area pointed out to me on Monday.
To be fair, they said, there is indeed more violence now during the Olympics.
One of them attributed this increase to crimes of opportunity. There are more tourists due to the Olympics; therefore there are more opportunities for crime, he said.
The other driver said, however, that the touristic areas of Rio, such as Copacabana and Ipanema beaches, are not any more dangerous than usual.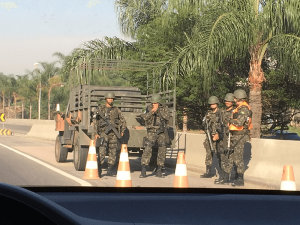 Nearby cities, including Niterói where he lives, have become more violent, he said. So people tend to generalize and say that the city of Rio de Janeiro has seen an increase in violence.
Both drivers, though, have seen a significant increase in security forces.
I noticed it as well as soon as Brennan and I left the airport yesterday.
In a stretch of 20 miles, we saw at least five groups of heavily-armed personnel.
They are part of a security force of 85,000 people, including 23,000 soldiers, assigned to keep tourists and athletes safe during the Olympics.
"I wish it was always like this," one of the drives told me.
Olympic Village
Security is even tighter at the Olympic Village, where Pardon and other athletes are staying.
Brennan and I got a cab to meet Pardon yesterday, but the cab couldn't go near any of the entrances.
It takes a special permission to pass through checkpoints, which are guarded by heavily-armed soldiers.
So I had to walk to the athletes' entrance to meet Pardon. On the way, I saw another army truck patrolling the area.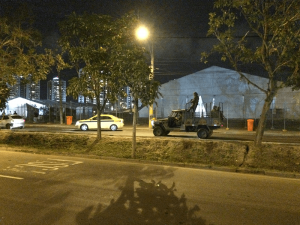 I got close to the entrance of the village and immediately started hearing and seeing people from all over the world.
Pardon wasn't able to meet us this time, however. He had gone to a different entrance on the other side of the village, which is so big that it would take him too long to get to us.
We decided to give it another shot today.
Be sure to check out Brennan Meagher's blog for her take on our Rio experience.