When Josh Adee was stationed in Hawaii a few years ago with the U.S. Navy, he fell in love with a teacher named Monica who introduced him to another new love: Teaching.
"I met my wife in Hawaii and she was a teacher, so I started volunteering a little bit in her classroom to be supportive and a good husband," Adee said. "I saw the relationships she had with her kids and how much fun she had. So, during my next tour with the Navy, I was an instructor and I just loved it."
As Adee, now 38, was moving closer to retirement from the Navy, he began thinking about a new career after the military.
"I started talking to my wife about teaching and she said, 'Well, you may not want to do this because there is a lot of politics in teaching,'" Adee said, chuckling. "I reminded her that there is a lot of politics in the military and I thought I could handle it."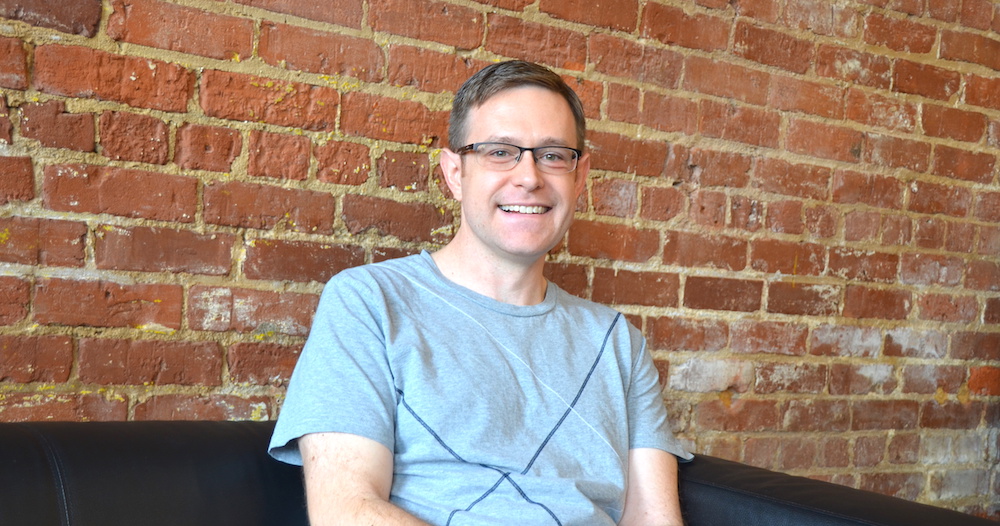 When Adee received his last tour on shore here in Augusta with the U.S. Department of Defense, he decided to enroll in Augusta University's College of Education to find out if teaching could be the next step in his future.
"I got enrolled here at Augusta University and I just loved the fact that the college immediately required fieldwork experience in local schools because you actually got to see what it's like to be a teacher," Adee said. "That was probably the biggest shock to me. It was like, 'Oh yeah. It's not just student teaching at the end of your courses. You have to go into the classrooms throughout the program.' That was something I had not even considered, but I have enjoyed my time in the classrooms."
Adee, who is graduating with a master's degree in secondary education this fall from Augusta University, completed his student teaching at Lakeside High School and Stallings Island Middle School in Columbia County.
During his fieldwork experience in the local classrooms, it didn't take long for Adee to catch the teaching bug, he said.
"I love the 'Aha' moment when the students get what I'm teaching them," Adee said. "It's almost addictive because it's just so cool. When they get it, especially on their own, it's the best feeling in the world."
A new path for troops
The College of Education at Augusta University, in concert with the U.S. Army and Fort Gordon, participates in a program called Troops to Teachers. This nationwide program, which was initially established in 1993, assists military personnel and veterans who are interested in pursuing a new career in teaching.
The program provides counseling and referral services for participants to help them meet educational and licensing requirements to teach and subsequently helps them secure a teaching position.
Since 1993, more than 21,000 veterans have successfully transitioned to a career in education, according to the Defense Activity for Non-Traditional Education Support (DANTES), a component of the Defense Human Resources Activity (DHRA).
Over the past several months, College of Education Dean Judi Wilson has met with officials from Fort Gordon to help promote the program and schedule regular recruiting opportunities on base. In January, the College of Education will be starting the Troops to Teachers Advisory Board to create a recruitment and retention plan for veterans interested in teaching, Wilson said.
As Adee prepares to walk the stage during commencement on Friday, Dec. 13, he can't wait to begin his new career as a high school history teacher.
"My bachelor's degree is in historical and political studies, so teaching history was perfect for me," he said. "And I do love teaching history, especially at the high school level, because in a couple of years these students will be able to vote. They will be able to potentially enlist. And they will actually have a voice in making policy in our country. So, it is important to me that they learn historically everything that has gotten us to where we are as a country."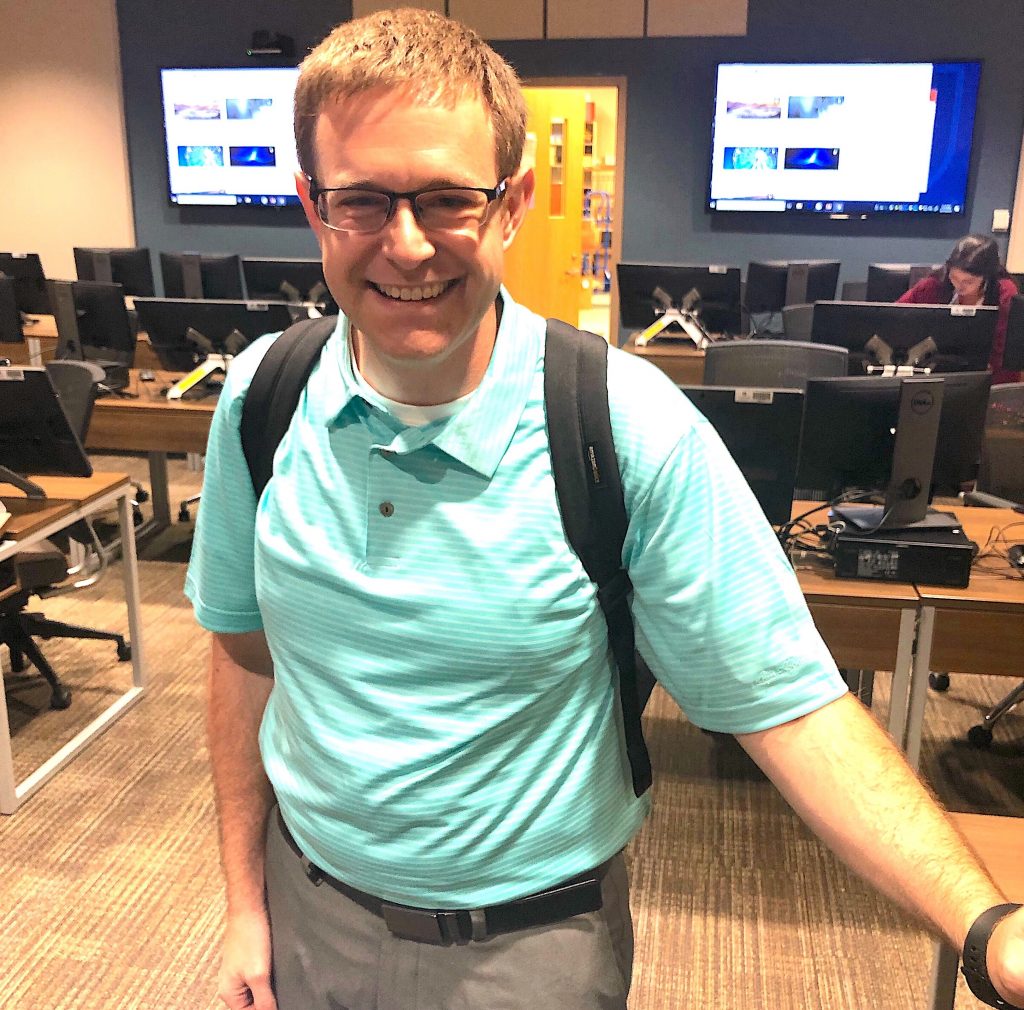 Adee said it is crucial for his students to be given the knowledge about history to form their own opinions about the country, he said.
"When we were talking about Andrew Jackson and the birth of the Democratic Party in class the other day, the students asked me, 'Is this like the Democratic Party of today?'" Adee said. "And I said, 'You cannot compare the two. They have the same names, but politics was way different back then. So, aside from the names, there is nothing similar about them.' They were surprised things could change so much."
Adee, who is originally from Texas, joined the Navy because he came from a long line of family members serving in the military.
"My father was in the Navy, my grandfather was in the Air Force and my uncle was in the Army, so there are several people in my family who served," Adee said. "In the Navy, I was a CTR, or a cryptologic technician, which is basically dealing with information warfare. I can't really talk about it too much, but I knew if I was going to do what I did in the military as a career, I would be sitting behind a desk most days, just staring at a screen, doing research and writing reports."
The idea of doing that kind of work each day was not appealing, Adee said.
"I just can't sit behind a desk all day. It drives me crazy," he said. "And, with teaching, you can't be behind a desk all day. You're up and moving and it's a challenge each day."
He also enjoys joking and interacting with the students, Adee said.
"I remember when I was doing my fieldwork at one of the local schools, I overheard two students talking and they had been told they were going to get a college student as a student teacher," Adee said. "I heard them saying, 'They told us we were going to get a college student, but this guy is so old.'"
Adee said he couldn't help but laugh.
"I turned around, looked at them and said, 'I may be old, but I'm not deaf yet,'" Adee said, smiling. "It was so funny and I had a really good experience connecting with the students. Honestly, I can't wait to have a classroom of my own."
Success in the classroom
Even as a small child growing up in Texas, Amanda Woods knew she wanted to be a teacher.
But after graduating from high school, she realized her family couldn't afford to send her to college.
As a result, Woods decided to join the Navy, so she could eventually pay for college using the GI Bill.
"I thought I was taking the easy way by joining the military so they would pay for my school," Woods said, laughing. "Initially, it was tough. But after about four years in the Navy, I actually liked being in the military. I am a very Type-A person because I like rules and procedures and people to tell me what to do every day. That makes sense to me.
"I like having structure and knowing what my expectations are every, single day. That fits me."
However, while Woods enjoyed the structure offered by the military, she found her assigned job in the Navy as an Arabic linguist extremely challenging. She still longed to become a teacher one day.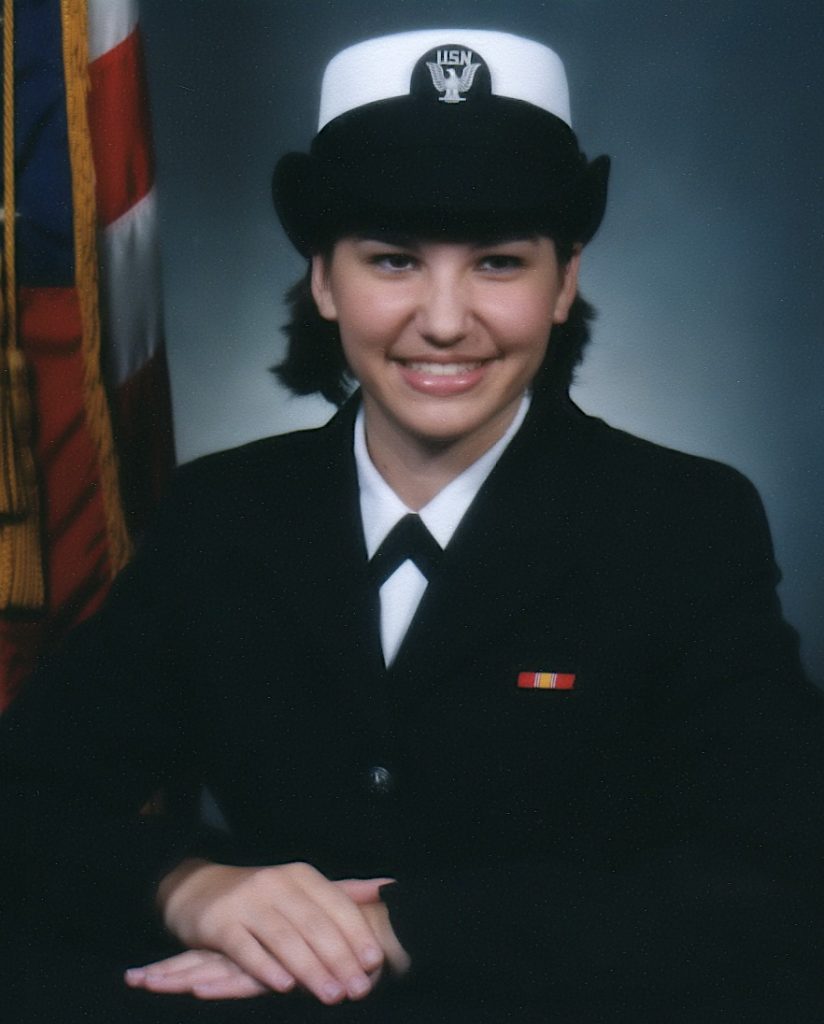 During her time in the Navy, she was stationed in California, Maryland and at Fort Gordon in Augusta.
"My husband and I came back here to Augusta so that he could finish his tour at Fort Gordon," Woods said. "But, after I had my daughter, I decided I was done with the military and decided to go to school to get my bachelor's degree in education."
Even after serving in the military for eight years, Woods had no doubt that she wanted to eventually become a teacher.
"I have always wanted to be a teacher my whole life," she said. "Originally, I had wanted to be a music teacher and after I went through a semester and a half at Augusta University, I realized I did not want to be a music teacher. But I still knew I wanted to teach."
Woods, 31, said she began exploring elementary education, but quickly discovered the younger students required too much "hand holding" in the classroom.
She then looked into secondary education, but found there were additional requirements to get her degree.
"So, I actually picked middle school education as my last resort and I actually really loved it," Woods said. "I remember on my very first day at class, I was like, 'I finally found where I'm supposed to be. Middle school is the right spot for me.'"
The first year teaching
Woods, who graduated last spring from Augusta University and was recently selected as the Outstanding Teacher Candidate at the annual conference for the Association for Middle Level Education, is now in her first year of teaching math to sixth-graders at Grovetown Middle School in Columbia County.
"Being a Type-A person is definitely a trait that is helpful when you're teaching because there's a lot of planning and rules and procedures that you're teaching the kids," she said. "So, instead of me following all of the rules and procedures like in the military, I am teaching others the rules and procedures."
In fact, Woods has found a lot of similarities between teaching and serving in the military.
"Honestly, it isn't that different from being in the military because there is still a chain of command, it's just not the same type of command," Woods said. "Now, I have a vice principal, a principal and a superintendent. So I still have all these people I have to go through and there's a right way to do it."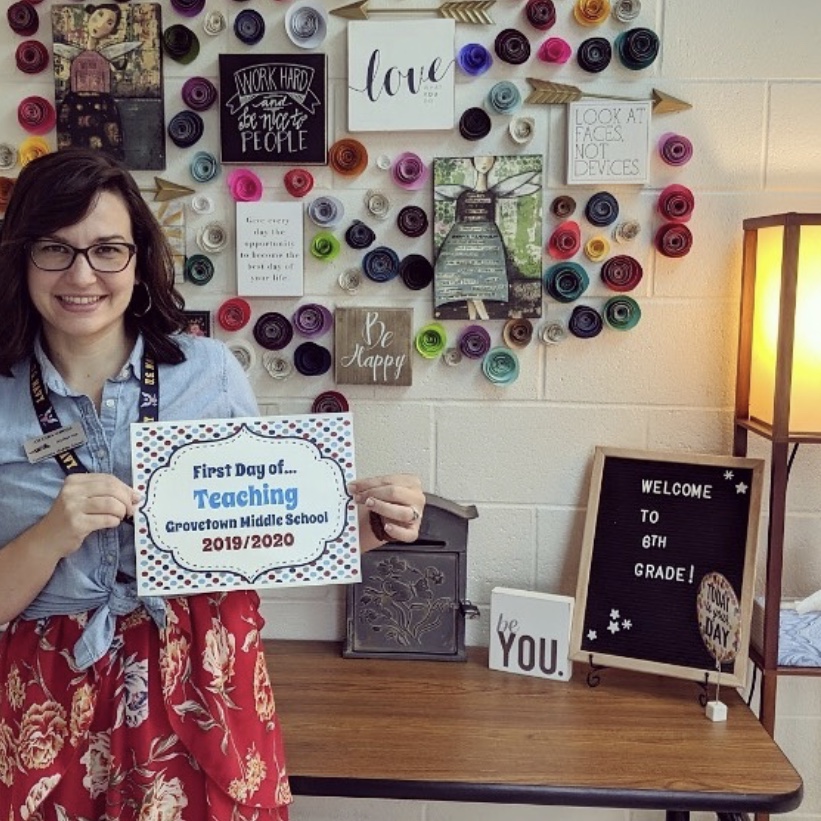 Former military personnel are also well versed in having to fill out specific forms to get the proper authorization or approval, she said.
"Teaching is no different," Woods said. "And, as a military person, you are constantly being trained how to be a leader, how to lead others and how to mentor to others. That's really all teaching is. You are just leading and mentoring to people who are younger than you are and your people aren't in uniform anymore."
Having a military background and teaching go hand in hand, Woods said.
"The military teachers that I know tend to have stronger classroom management because we know how to deal with people," she said, adding that it also helps that former military personnel have a great deal of life experience. "When you have eight years of experience in the military and then you go back to school and start teaching, people see that you can be a leader. And I feel like that gave me a leg up on the competition in getting a job."
Woods said her military background also helps when managing her classrooms.
"My students forget that for eight years I was a listener," Woods said, laughing. "That's what my job was as a linguist. I listened for eight years, so I can hear them in the classroom even when they are trying to be discrete and quiet."
Therefore, there is no goofing off in her classroom, Woods said.
"Even if I am not facing the students or they are not facing me, I can still hear exactly where the sound is coming from in the room and I know who is talking," Woods said, chuckling. "So I tell them, 'You are not being sneaky. I can hear you. This classroom is not that large.' I catch them every time."


Learn more about the Troops to Teachers program at Augusta University.