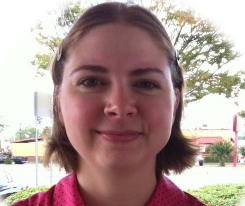 James M. Hull College of Business student Shannon Runger has successfully completed the Internal Audit Internship Program as of December 2015. Over the course of the fall semester, Runger logged more than 70 hours and contributed substantially to a variety of audit projects. She will join other intern alumni in the Internal Audit Intern Hall of Fame.
An accounting major, Runger expects to graduate in May 2016. Her military experience includes nine years in the U.S. Air Force, where she achieved the rank of staff sergeant.
The IA Internship Program is intended to provide an introduction to audit for students who are contemplating a career in the field of internal audit. This is a volunteer internship that is particularly valuable to students who are seeking relevant professional experience as they develop their resume. The program is designed to enhance classroom learning by providing "hands on" field work and project management opportunities. The internship qualifies for course credit as a general elective if the student so chooses. It also qualifies for the Federal Work Study Program through the Office of Financial Aid.
Interest in the Internal Audit Internship Program continues to build. Ann McCaffrey, also a student in the Hull College of Business, will begin her internship with the start of the spring semester.
Contact Kathleen Boyd, associate director internal audit, at 706-721-9525 or kboyd50@gru.edu for additional information about the Office of Internal Audit Internship Program.