During the annual Values Week from Nov. 8-14, Augusta University celebrates its six core values: collegiality, compassion, excellence, inclusivity, integrity and leadership.
Ryan Johnson, a third-year student at the Medical College of Georgia, is recognized for his work to make the campus more inclusive.
Johnson and fellow medical student Sauveur Barry served as the first co-presidents of Black Men of MCG, a student organization established in January 2021. He and Barry are two of the group's founding members, along with students Raymond Harris, Akwasi Aduboffour, Kenneth Queh and Remi Awe.
The group was started when Johnson and his colleagues noticed a representation gap in their field.
After participating in MCG's six-week pre-matriculation program, Johnson met Barry and Harris and became close friends with them.
Then, when the three began participating in the Minority Association of Pre-Medical Students, they noticed the medical college was lacking Black men — and that the Black men who were there needed community.
They decided to start a group to address this need, with support from Dr. Linda James.
James, the recently retired assistant dean of student diversity and inclusion at the Medical College of Georgia, had already been working to address this issue. At the time, the Association of American Medical Colleges had recently released a report that the number of Black men in medicine had remained stagnant for nearly 40 years.
"We wanted to provide support for all the Black men coming through medical school, to know that they're supported even though they're one of the most underrepresented groups," said Johnson.
The group began recruiting members, meeting with Black male physicians at Augusta University and hosting events and panels. However, Johnson credits his peers Queh and Awe for expanding the group through a strong social media and on-campus presence.
"It's really taken off, and I'm really proud. This is exactly how we envisioned it when we discussed starting this organization," Johnson said.
Thanks to its growth and its important mission, the organization has already received recognition on campus and by local media. The group is advised by Dr. Uzondu Agochukwu and Dr. Kevin Allen Jr.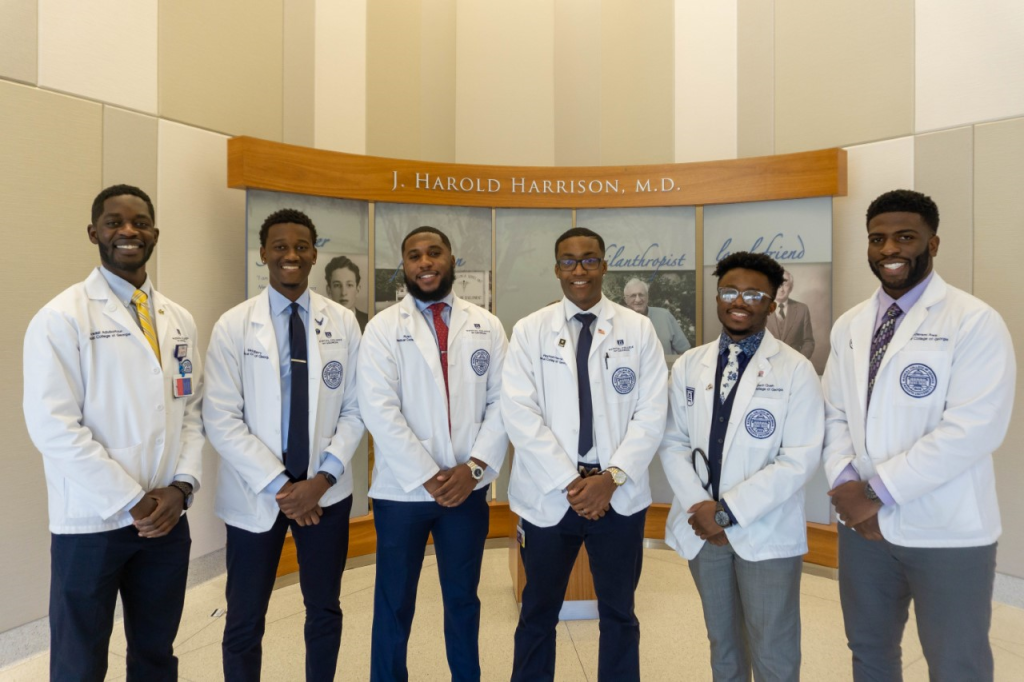 Despite his success and involvement at MCG so far, Johnson said his journey to medical school was nontraditional.
While pursuing his undergraduate degree from Savannah State University, he learned about the concept of environmental justice. This led him toward an interest in public health.
After earning his master's degree in public health with an emphasis in epidemiology from Georgia State University, he started his career as a researcher at the Washington University School of Medicine in St. Louis.
While there, he worked regularly with physicians and grew to love the patient-provider relationship. He decided to use his tuition assistance benefits to gain the credits he needed to apply for medical school, earning him an additional master's degree in biology.
Johnson is currently on OB/GYN rotation and will graduate in May 2023. He expects to pursue a career in emergency medicine.
Regardless of what he ends up practicing, Johnson will always advocate for inclusion and diversity in health care.
"Health disparities are a big thing in medicine. For leading causes of death, certain groups are affected numerous times over compared to other groups," he said.
"So it's important to have individuals from groups that are marginalized or that are affected by these health disparities at the table making decisions, as well as providing perspective, because in the long run, you'll be able to provide better care to individuals that belong to that group."
When a patient can identify with their provider, Johnson believes that greater sense of trust leads to better outcomes.
"You have to have a good relationship with your patient to get information from them, for them to trust you, for them to come back and see you when they need you, for them to trust your word. It's very important that individuals can relate to their providers."
But inclusivity, he said, is also crucial in everyday life.
"It's important to have camaraderie in life and also to support one another. You want to support individuals no matter what their background is because we're all walking through this journey in life together, and we all need to have the proper support. You want to make sure nobody is left out and everyone has a role and a part."