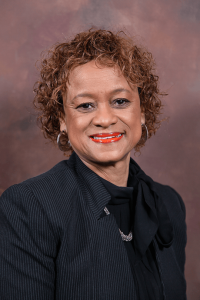 Linda James, assistant dean for student diversity and inclusion at the Medical College of Georgia at Augusta University, has been appointed to the Association of American Medical Colleges Group on Student Affairs' Committee on Student Diversity Affairs.
She will serve a three-year term as the Southern Group on Student Affairs' representative on the committee that provides guidance on medical student diversity with respect to student recruitment, admissions, enrollment, retention and graduation.
James began serving as a part-time consultant to MCG in 1996 while working as a biology professor and directing the Health Careers Opportunity and Professional Health Sciences programs at neighboring Paine College. She joined the MCG faculty full-time in 2004 as director of the medical school's diversity outreach efforts.
At MCG she oversees the Student Educational Enrichment Program, a summer pipeline program that helps recruit and retain those who are underrepresented in medicine. She also helps organize the annual Igniting the Dream of Medicine Conference, a one-day event sponsored by the Student National Medical Association and the MCG Office of Student and Multicultural Affairs, that brings around 400 high school and college students to campus to learn about how to prepare for a career in the health sciences.
She earned a bachelor's degree in biology from Savannah State College and a master's in microbiology from Alabama A&M University and the University of Alabama.