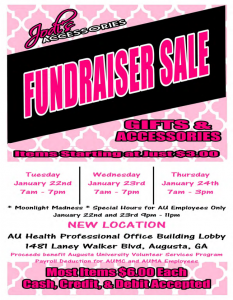 Jodi's Accessories is the newest fundraising sale to benefit Augusta University's volunteer programs. It will take place Jan. 22 – 24 in the Professional Building 1 lobby on the Health Sciences Campus. The sale will carry a wide array of fashion accessories, home and gift items, and most of the items will be $6 or less.
The sale is open to the public, and all proceeds from the sale will go to Augusta University and AU Health Volunteer scholarships and programs. Payroll deduction will be available for AU Medical Center and AU Medical Associates employees.
General Sale Hours
Tuesday, Jan. 22: 7 a.m. – 7 p.m.
Wednesday, Jan. 23: 7 a.m. – 7 p.m.
Thursday, Jan.  24: 7 a.m. – 3 p.m.
There will also be a Moonlight Madness Sale for AU Health Employees only Jan. 22 – 23, 9 to 11 p.m.
Please note the new location: the lobby of Professional Building 1 at 1481 Laney Walker Blvd on the Health Sciences Campus.