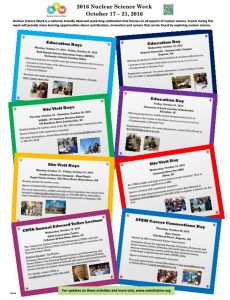 Augusta University will be participating in two events during Nuclear Science Week, celebrated from Oct. 17-21, 2016.
The university will host Nuclear Science Week Education Day on Wednesday, Oct. 19, on the Summerville Campus. The event offers programs for high school students and teachers that are focused on learning about the atom and the fundamentals of nuclear fuel.
On Thursday, Oct. 20, Augusta University will also participate in STEM Career Connections Day held at the Kroc Center. This interactive forum will bring together high school juniors and seniors from the area who are considering career paths that include science, technology, engineering and math skills.
National Science Week is a national celebration that focuses on all aspects of nuclear science. Augusta University has participated since 2013.
For more information, contact Debbie Conley, 706-729-2260 or deconley@augusta.edu.