In recognition of May as National Trauma Awareness Month, Jagwire will be sharing miraculous stories of survival from the region's only Level 1 Trauma Center at Augusta University Medical Center. 
As he slowly, carefully made his way through the lobby of the Children's Hospital of Georgia on May 12, Jay Cummings was a true walking miracle.
Nearly a year ago, on June 27, 2020, the then-23-year-old was on his way back from a semi-pro basketball game in Hampton, Georgia, when his 2017 Hyundai was hit by a drunken driver.
His close friend and teammate, David Dixon, died on the scene. Cummings was airlifted to Augusta University Health, where it was determined that in addition to some broken bones and extensive bruising, he sustained internal decapitation — a condition in which the head separates from the spinal cord and results in nerve damage. It's often fatal.
For the next year, he underwent multiple surgeries, sometimes daily, while his family wondered if he'd survive.
Seated on the couch in the Children's Hospital near her son that day in May, Shirley Grant teared up a bit as she recalled a year earlier, when her son couldn't speak or sit up, let alone walk.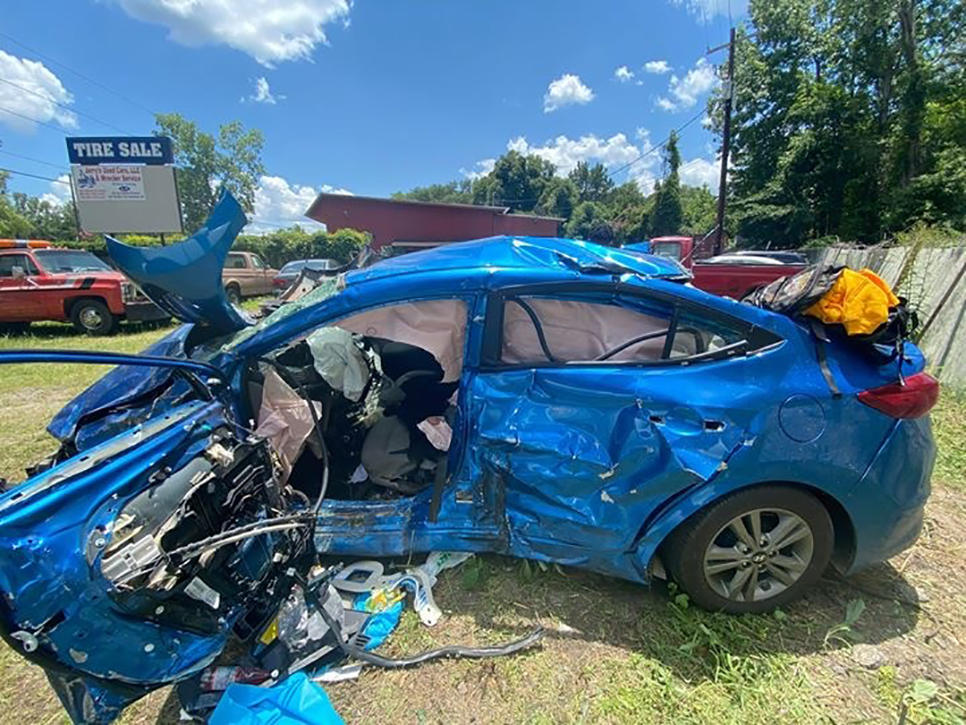 "And now he's able to communicate with you. And you would think, from the injuries he had head-wise and spinal cord-wise, you would think he wouldn't be able to comprehend. But he's fine. A little slower, but other than that, each day gets better," she said.
Then Grant listed off his injuries.
Colon, diaphragm, bowel and intestinal injuries. His ribs were broken. His shoulder was broken. He had several pelvic injuries. His hip was broken in several places, including the hip socket and the hip joint. A leg injury, foot injury, spinal cord injury, scrotum injury.
"God, it was so much," she said.
Some injuries, like the diaphragm, needed multiple surgeries to repair, she said. When he was finally healed enough to start rehabilitation, she said the staff at AU's physical therapy clinic was completely surprised by his condition — but in a good way.
"They looked at his record and were like, 'We were expecting him to be in a wheelchair, or incapacitated to the point where he's not able to do anything.' They were just literally shocked when they walked in and saw him able to walk and everything like that."
Through August 2020, Cummings worked through surgeries and physical therapy before moving to Carolina Rehabilitation in North Carolina for a couple of weeks, returning to AU for outpatient treatment. He now continues his physical therapy in of Batesburg, South Carolina, where he now resides.
"My experience here was good. The faculty was good to me," Cummings said. "I remember one of the guys (on staff) used to talk to me about basketball, what was going on in the NBA at that time."
When he left, the staff in Shock Trauma gave him a basketball they all signed. That meant a lot to him.
From the time he was small, he always had a ball in his hand. He was excited to play semi-pro basketball but said the accident completely changed his life course.
Now, he wants to be an encouragement to others and his story whenever he can. He hopes that others find inspiration to overcome whatever obstacles they face in life.
"I want to be able to impact people's lives in a positive manner," he said. "I feel like if I can just tell people a little bit of what I went through, I feel like that will help them overcome whatever battle they face. That's something I really want to do."