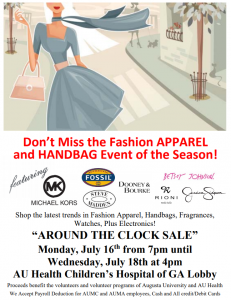 The Office of Volunteer Services and Engagement are excited to bring two great fashion and accessory vendors to Augusta University.
Beginning on Monday, July 16, Retail Concepts and Your Silver Connection will be setting up in the lobby of the Children's Hospital of Georgia.
The Summer Fashion Market will feature fashion apparel, designer handbags, fragrances, watches, electronics and more.
Cash, credit and debit cards are accepted. Payroll deduction will be available for AU Medical Center and AU Medical Associates employees. The sale is open to the public and proceeds benefit volunteer programs and scholarships at Augusta University and AU Health.
The sale runs "around the clock," from 7:00 p.m. Monday, July 16th, until 4:00 p.m. Wednesday, July 18th.
A Bonus Pop-Up Shop will be available in the Medical Office Building Lobby (MOB Lobby) on Thursday, July 19th between 9:00 a.m. until 4:00 p.m.
For more information on the sale, or volunteer opportunities, email the Office of Volunteer Services or call (706)721-3596.