February is the perfect time of year for sharing a little "puppy love" with our health care heroes at Augusta University Health.
The Augusta University Office of Volunteer Services and Community Engagement's pet therapy volunteer handlers and their furry friends were recently welcomed back to service for some safe one-on-one time with our hardworking medical center clinical staff.
The visits provide a much-needed dose of comfort and happiness in their challenging days, said Emily Fleming, nurse manager of the 7 South and 8 South medical center units.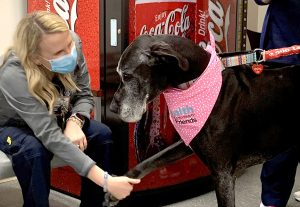 "Our team absolutely loves the visits from our furry friend volunteers, as they always bring us joy and brighten our day," Fleming said.
These caring canines can brighten the darkest day with their unconditional love, and our volunteers are happy to do their part to support the important work of our frontline health care staff.
The Office of Volunteer Services and Community Engagement is now recruiting for more committed, certified canine pet therapy volunteer teams to join our effort to support a more positive patient experience within AU Medical Center. If you are interested in learning more about joining our pet therapy volunteer team as a handler or visit escort, or being certified as a pet therapy provider, please email Volunteer Services and Community Engagement.