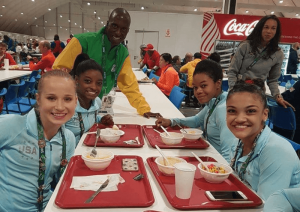 By now you've probably seen the photo of Pardon Ndhlovu and the U.S. women's gymnastics team.
Thanks to Arthur Takahashi and Brennan Meagher, the two Augusta University correspondents we sent to Rio to cover the Pardon's Olympic journey, we were able to get that photo and the story behind it.
Arthur and Brennan were able to spend time with Pardon yesterday, and that access yielded a couple of videos that give us a better understanding of what it's like to be an Olympian in Rio.
There's a lot more to come, so be sure to check out our Olympics page, where you'll find all our on-the-ground content as well as lots of  Olympic-related content provided by the talented members of the Augusta University community. And be sure to follow the story on social media: #JagsInRio, #RunWithPardon, @ArthurTakahashi and @brennanmeagher.