The Cinema Series might be bringing the Halloween screams a little early this year, but rest assured, the chills will last you until All Saints' Day.
This weekend, the Retro Horror Double Feature kicks off on Saturday, Oct. 24, at 8 p.m. with a screening of Director Ken Wiederhorn's cult classic "Shock Waves."
When a group of tourists encounter a strange orange mist at sea, their ocean getaway quickly runs aground. Stranded with little hope of rescue, the survivors scramble to find shelter only to uncover a living relic from the not-too-distant past. As it happens, that wasn't even their first mistake.
Beset by unspeakable terrors and the cold reality of their own impending doom, the vacationers quickly realize that the last "great" war was more terrible than anyone could have imagined.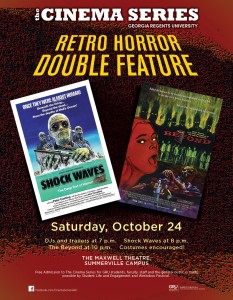 Hailed for its imaginative premise and subtle use of horror elements, "Shock Waves" stars Peter Cushing ("Dracula," "Star Wars"), Brooke Adams ("Invasion of the Body Snatchers") and John Carradine ("The Grapes of Wrath," "The Ten Commandments").
Following "Shock Waves" at 10 p.m. is another horror cult classic, Italian director Lucio Fulci's gory masterpiece "The Beyond."
The Seven Doors Hotel harbors a dark and twisted secret: a violent history of murder and black magic. When a young entrepreneur from New York inherits the building from a distant relative and begins renovating it for the public, she unintentionally opens a door that can never be closed. What awaits her in the beyond?
Only the dead know for sure.
Released in the U.S. in 1983, the original version of "The Beyond" was heavily censored for its graphic depictions of violence and saw only a limited theatrical release. Now a hit with horror fans around the world for its surrealist, metaphysical portrayals of Hell and the afterlife, "The Beyond" is one horror film you'll have to see to believe.
To get the most out of your horror experience, join the Cinema Series crew before the show for music and movie trailers, and be sure to follow the Cinema Series on Facebook for the latest information on upcoming shows and events.
Ready to be scared, horror fans?
Then join us at the Maxwell Theatre on Oct. 24.
We'll be waiting for you…