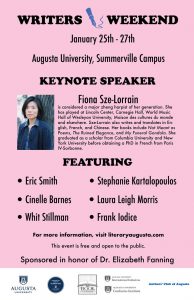 The Department of English & Foreign Languages in Augusta University's Pamplin College of Arts, Humanities, and Social Sciences will host its seventh annual creative writing conference, Writers Weekend, Jan. 25-27, on the university's Summerville campus. This year's event, held in honor of Dr. Elizabeth Fanning, professor Emerita of English, will feature authors who specialize in translation and literary adaptations.
Celebrated poet, translator and zheng harpist Fiona Sze-Lorrain is this year's keynote speaker. Sze-Lorrain's keynote address is Friday, Jan. 25, at 7 p.m. in the Jaguar Student Activities Center Ballroom; a reception and book signing will follow. Other featured presenters include writer and director Whit Stillman, essayist and memoirist Cinelle Barnes, freelance journalist and novelist Frank Iodice, short story writer and novelist Laura Leigh Morris, poet Stephanie Kartalopoulos and poet and managing editor of the Sewanee Review Eric Smith. Visiting writers will offer readings and a variety of craft talks; other events include a film screening, a musical and a concert — the final event of the weekend. Most events are free and open to the public.
Sponsors for 2019 include the English and Foreign Languages and Communication Departments of Augusta University, The Cinema Series, the Office of Student Life and Engagement, the Confucius Institute, International Initiatives of Augusta University, The Book Tavern, and the Authors' Club of Augusta. For more information, visit Literary Augusta, contact Anna Harris-Parker or call 706-729-2508.