When she went for a routine mammogram in May 2018, Telena Edwards could tell by the look on the mammography technologist's face that she wouldn't be getting a good news.
"I could tell by her face, but she didn't say anything. They made me an appointment with Dr. Alicia Vinyard," said Edwards, who was 44 at the time. "I was scared. I didn't think it was going to happen to me."
Edwards' mother was diagnosed with breast cancer in 1995, and Edwards said she believed it would skip a generation.
After a biopsy, she was diagnosed with invasive ductal carcinoma and elected to have a double mastectomy. She also underwent six months of chemotherapy at the Georgia Cancer Center at Augusta University.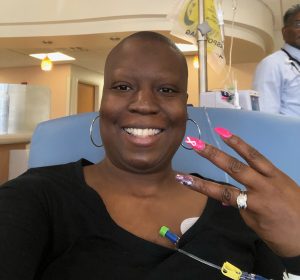 "Surgery is not the same for every patient and it is a very individualized process. It was ultimately her decision to remove both breasts and we respected her wishes," Vinyard said.
Edwards' treatment included cosmetic surgery using her own abdominal tissue to reconstruct her breasts.
"Our goal was to have Telena feel like herself and not be reminded of her cancer when looking in the mirror," Vinyard said. "She was extremely happy with her results, and our plastic surgery team and I work very closely together to determine the best options for all of our patients."
Edwards said it helped knowing that Vinyard had gone through the same type of breast cancer and spoke with her from experience. Edwards' family and her faith also helped her through, as chemotherapy was extremely difficult for her at times.
"I wanted to stop because I was so, so sick, but my dad called me and my mom called — everybody called to talk to me for a long time," she said.
Her family also attended treatments with her and encouraged her to keep going. That's her advice to other women going through treatment, as well. She also recommends prayer and encourages them not to give up.
"Please don't give up, because if you give up and you start feeling sorry for yourself, I think you would go down from there. But if you keep that (positive) spirit, you can get through it," she said.