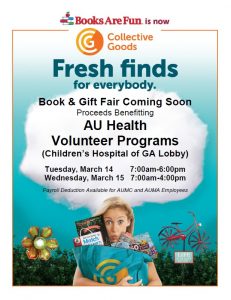 The Office of Volunteer Services and Engagement is partnering with Collective Goods, a company specializing in flash sales where a percentage of the proceeds benefit a local cause, to organize a book and gift fair for faculty and staff at the Children's Hospital of Georgia.
Offering the latest in gifts, books and toys, Collective Goods makes shopping for children easier and more convenient by actually visiting their customers' workplace. The company is dedicated to bringing value to consumers and helping customers support the causes they care about.
Proceeds from the Book and Gift Fair will benefit the Augusta University and AU Health Volunteer Programs. Shoppers can expect some great specials, such as a free tote bag with any purchase over $25.
Payroll deductions will be available for Augusta University Medical Center and Augusta University Medical Associates employees.
The Book and Gift Fair will take place on Tuesday, March 14, from 7 a.m.–6 p.m. in the lobby of the Children's Hospital of Georgia. Customers can also browse the lobby for books and toys the following day, Wednesday, March 15, from 7 a.m.–4 p.m.