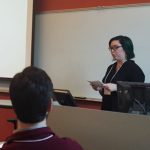 Senior sociology major Kathryn DelGenio has been awarded The Welcoming Project's 2016 Undergraduate Scholarship Award for her outstanding contributions to the field of LGBTQ activism.
The award, a $500 scholarship awarded annually to one undergraduate student and one graduate student, is granted to applicants from degree-granting institutions who have made significant contributions to LGBTQ activism in the U.S. and abroad.
DelGenio is a student leader in Augusta University's efforts to become a more inclusive institution. Her service in the university's Safe Zone Program and Lambda Alliance have helped to promote a more welcoming campus atmosphere for LGBTQ faculty, staff and students.
Most recently, DelGenio took a more active role in the university's Lambda Alliance by organizing a collective response to disparaging sidewalk messages on the Summerville Campus in the fall of 2015. Since then, she has also organized a "Take Back the Sidewalks" rally, drafted changes to student legislation and organized various discussion panels related to LGBTQ mental and social wellness in the CSRA.
In addition to her efforts on campus and in the Augusta community, DelGenio also participated in the WorldPride Human Rights Conference held in Toronto in 2014.
Visit The Welcoming Project website for more information or to submit a 2017 application.