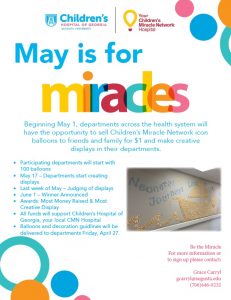 May is for Miracles at the Children's Hospital of Georgia.
Beginning May 1, departments across the health system will have the opportunity to participate in a friendly interdepartmental competition called May is for Miracles. The contest is designed to raise funds for our Children's Hospital of Georgia and to generate awareness of our Children's Miracle Network Hospitals partnership.
All departments who choose to participate in the campaign will be given 100 paper CMN Hospital "miracle balloons" to sell to begin the competition. Departments are asked to sell miracle balloons for $1 or more each to friends, family, and within your departments. When you sell all 100 – and hopefully you will do this multiple times – you may request 100 more balloons to sell, and so on.
Now comes the additional challenge. Using your paper miracle balloons, each department is asked to design a creative display in your unit or area. The more balloons you sell, the more elaborate you can make your display.
During the last week of May, a miracle child from Children's Hospital of Georgia will walk around and judge the displays. Two awards will be presented: Most Money Raised and Most Creative Display.
All funds will benefit Children's Hospital of Georgia, our CMN Hospital and the nation's best in pediatric quality and safety.
Please sign up by April 27 (although later entries will be accepted).
For more information about the contest or to sign up your unit or team, please contact: