During the 5th Annual Fall Kick-Off this week, Augusta University President Brooks A. Keel, PhD, and Dr. Gretchen Caughman, executive vice president for academic affairs and provost, told faculty and staff that Augusta University is proud to be a "destination of choice" for thousands of students throughout Georgia and beyond.
"This past Saturday, I had the opportunity to stop by and walk into the residence halls and see the students moving in and talk to some of their families," Keel told the faculty gathered in the Maxwell Theatre on Monday, Aug. 12. "If you can't get excited about both convocation and commencement, those two bookend opportunities to celebrate what we do here … you're in the wrong business."
The new students' enthusiasm for Augusta University is contagious, Keel said.
In fact, Keel said he can't wait to ring in the new school year with the 1918 Augusta Arsenal Bell that was recently restored by skilled craftsmen prior to last spring's commencement.
"Did y'all see the bell when you came in? Isn't that the coolest thing that you've ever seen?" Keel asked the faculty, pointing to the lobby of the Maxwell Theatre, where the historic bell was on display. "What greater way to establish new traditions at commencement and convocation than to ring that bell three times? One for the past, one for the present, and one for the future."
Growing Augusta University
With almost 9,300 students currently enrolled in the fall semester, Augusta University is thriving, Keel said.
While numbers won't be official until later in the fall — Caughman made it clear the numbers they were using, particularly the enrollment numbers, were accurate as of the presentation but subject to change — Augusta University is definitely growing.
"Enrollment is such a huge part of why we are here, and what an exciting place to be when enrollment is actually increasing," Keel said. "All institutions in the state can't say that."
In addition, more than 50% of the freshmen now enrolled in the university this fall are from outside the Augusta area, Keel said.
"We are becoming a university of choice, a destination university, for the entire state of Georgia," Keel said. "How exciting is that?"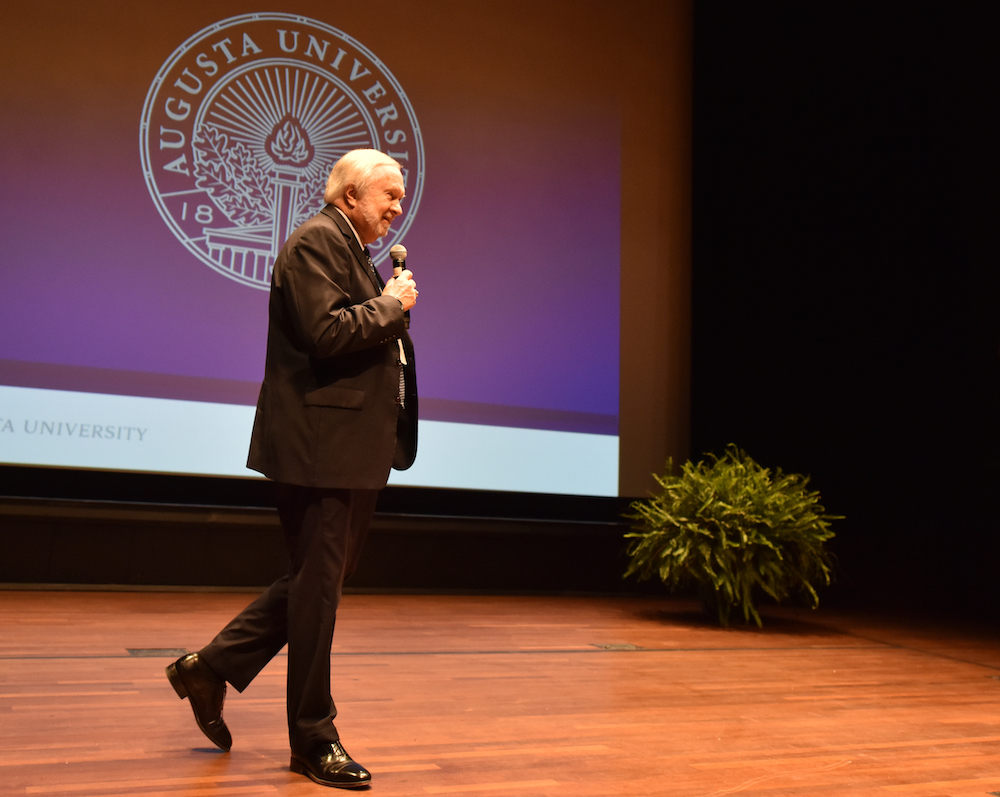 With that growth comes positive change and expansion, Keel said.
In fact, Augusta University will formally break ground for the construction of the new College of Science and Mathematics building on the Health Sciences Campus on Aug. 23, Keel said.
The planned 125,000-square-foot building, equipped with research laboratories, will be located between The Dental College of Georgia and the J. Harold Harrison, M.D. Education Commons.
"The opportunity to move the College of Science and Mathematics building down to that campus and have those young people in the middle of all of those white coats and then to have the chance for the rest of this campus, Summerville, to expand, what an exciting opportunity for us," Keel said, joking with faculty that it's obvious he's overflowing with pride for his alma mater, Augusta University. "Well, as you can tell, I am a little bit biased because this is my university.
"I'm saying that because I really did graduate from both the undergraduate campus and the graduate campus of this university. It is very humbling to be president of my university, and I hope that you see this as your university as well."
Before formally beginning her address to the faculty, Caughman wanted to personally thank Dr. Lucy Marion, dean of the College of Nursing for the past 15 years, for her incredible service to the university and commend her on her 52-year career in nursing.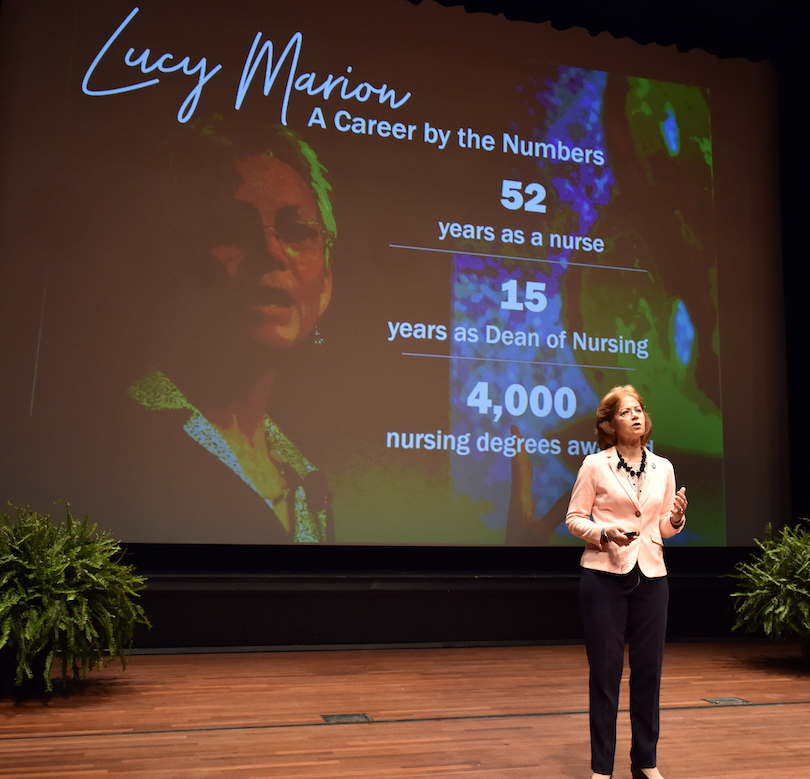 Marion plans to retire later this year.
"I just wanted to recognize Lucy Marion for all that she has done for us, as well as for the profession of nursing, not just here, but throughout Georgia and throughout the nation as a leader in the nursing profession and nursing education," Caughman said, as the faculty members gave Marion a standing ovation.
Keel echoed Caughman's remarks by adding, "Dean Marion, you're not just the dean of nursing for this institution, you are the dean of nursing for the entire state of Georgia."
Powerful numbers
Looking at Augusta University's enrollment and graduation rate over the past four years, Caughman said the university has not only increased its retention rate by 9%, but it has also increased the degrees awarded by 15% and its six-year graduation rate is up by 23%.
"Progress is good, and I'm really, really pleased with these numbers," Caughman said, adding that one of the university's goals is not only to attract new students to the campus, but also retain them. "The best student to have is the one that is already here."
One way to attract more students to Augusta University is to offer new academic programs that also meet the demands of the workplace, Caughman said.
New this year are a Bachelor of Science in cybersecurity engineering; a Bachelor of Science in cybersecurity; a Bachelor of Science in cyber operations; a Bachelor of Arts in health, society and policy; and a Bachelor of Science in health promotion.
Two master's degrees have also been approved by the Board of Regents: a Master of Science in biological and computational mathematics and a Master of Science in biomolecular science.
"One of the master's degrees was actually only approved at the last Board of Regents meeting, which was last Thursday, and that was the Master of Science in biological and computational mathematics," Caughman said, commending the faculty for its dedication in providing students with new programs. "We are moving along in terms of becoming a more robust, truly comprehensive university."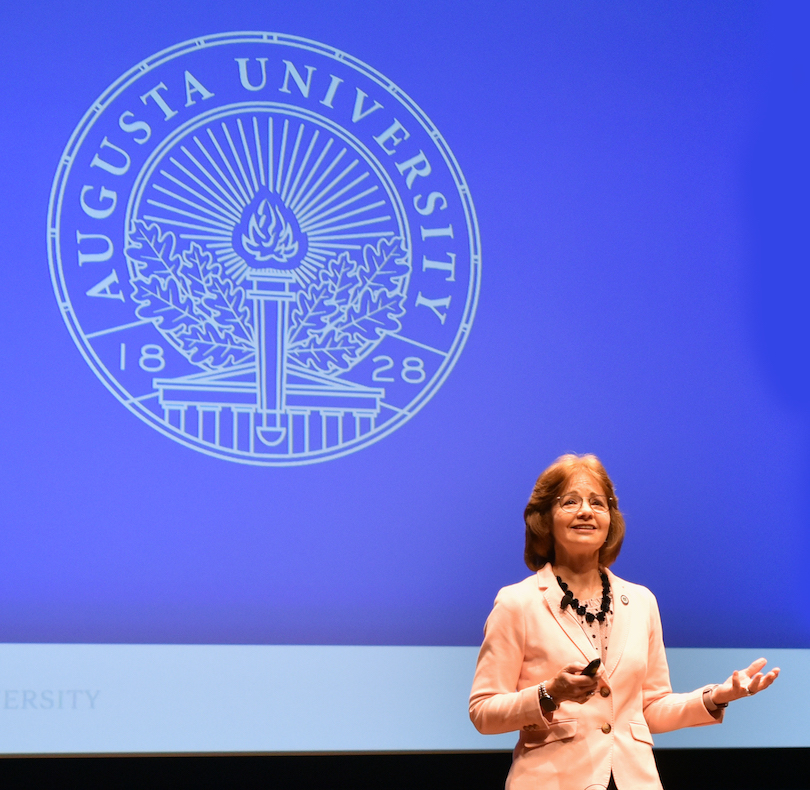 In fact, Augusta University has experienced a 44% growth in academic programs since 2012.
At that time, the university offered 111 academic programs, Caughman said.
"Now, six years later, we are at 160 academic programs," she said. "I think that's remarkable."
There are several other programs that are currently in development such as a Master of Science in computer science, a Master of Science in data science, Bachelor of Fine Arts in film and theater, Bachelor of Arts in nonprofit administration and leadership and a Doctor of Psychology, Caughman said.
But even though the academic programs are increasing, Caughman said Augusta University has still been able to offer students the advantage of small class sizes.
"There are 16 undergraduate students to every faculty member," Caughman said, adding that students have continuously insisted that their close relationships with the faculty are Augusta University's strongest assets. "We are already a destination of choice, and we continue to grow that."