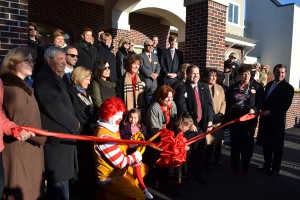 Several choked back tears Thursday as the ribbon was cut on the new Ronald McDonald House at Georgia Regents University, including Rachael Peeples.
Peeples' 6-year-old daughter, Haley, has been a regular patient of Children's Hospital of Georgia.
"This is my home away from home. When you have a bad day, when you get bad news from the doctor, this home makes you feel better," Peeples told the crowd gathered for the ribbon-cutting ceremony.
Thursday night was the last Rachael and Haley spent at the Ronald McDonald House on Greene Street which is being replaced with the new house on GRU's Health Sciences Campus.
"It's bittersweet … but we're going to close that chapter, and I can't wait to have more memories here. Thank you, Betts and Sean and staff, for making this a home away from home," Peeples said.
The new house, located just about 100 yards from CHOG, is seven times the size of the house on Greene Street at 28,500 square feet. It has 22 bedrooms with private baths, bedrooms and a playroom especially for children with suppressed immune systems, a large family kitchen, and a living room for family activities.
Ground was broken on the House in 2013, and families will move in Jan. 19.
The ribbon-cutting included remarks from Augusta Mayor Hardie Davis; Ronald McDonald House Charities of Augusta Board Chair Pat Goodwin; founding Board Member Shari Covitz; CHOG Surgeon-in-Chief Dr. Charlie Howell; Ronald McDonald House Charities of Augusta Capital Campaign Co-Chair Dr. Braye Boardman; and Betts Murdison, Ronald McDonald House Charities of Augusta President & CEO.
Not only was Dr. Howell on the ground floor of contributing to the Ronald McDonald House as capital campaign co-chair, he was also on the ground floor of campaigning for CHOG starting in 1982. It's all because he loves caring for kids.
"The pediatric clinical subspecialists – the anesthesiologists, surgeons, NICU and PICU attendees – we all cherish and love taking care of kids," Howell said.
Having the Ronald McDonald House within walking distance of CHOG will lift a huge burden from families, Murdison has said. No longer will parents be a car ride away from their hospitalized children; they'll be a short walk away.
Before there was a Ronald McDonald House in Augusta, pediatricians would often take into their own homes parents of hospitalized children, according to Shari Covitz, Ronald McDonald House Charities of Augusta Founding Board Member.
"The parents needed support, and there wasn't any," said Nancy Wall, speaking on behalf of Covitz. "If Shari were here today, she would say, 'You've come a long way with a lot of hard work.'"