On a typical day, respiratory therapists move throughout the hospital providing pulmonary care, including administering breathing treatments, assisting with intubations and extubations, managing ventilators and ensuring patients can breathe well.
In the Children's Hospital of Georgia, sometimes they care for critically ill children in the neonatal or pediatric ICU who need Extracorporeal Membrane Oxygenation (ECMO). This machine acts as an artificial lung, artificial heart, or both, depending on the condition.
However, Augusta University Health had no formalized ECMO program for adult patients until recently.
Physicians in Cardiothoracic Surgery, Cardiovascular Care, and pulmonary disease were in the process of developing a formal adult ECMO program when the COVID-19 pandemic shifted patient needs throughout the hospital. Four patients within five weeks needed ECMO — two of whom were COVID-19 patients.
For 12 hours at a time in full PPE, a core team of seven respiratory therapists — Amy Cato, Stephanie Robinson, Richard Dizon, Joey Pasto, Ben Hill, Raymond McHatton and Jason Kiser — sat at the patients' bedside, monitoring both patient and machine. One sat with each patient by day, and one by night for as long as these patients were on ECMO. Treatment can last a few days or a few weeks.
"They deserve some recognition. This is not in our job description," said fellow respiratory therapist Dierdre Shaw. "They have gone above and beyond to educate themselves and take care these of patients. They are sacrificing so much of their lives. It's a big deal. I just want everyone to know."
Patients on ECMO are critically ill with the possibility of recovering, said Dr. Vijay Patel, associate professor of surgery in Heart and Cardiovascular Services.
"Most commonly, it is a bridge-to-recovery intervention," he said. "It's a temporary device that allows you to resuscitate the patient who is in a very dramatic, acute decline. It stabilizes them by supporting their lung and/or heart failure and allows you to make decisions and tailor their future medical management."
Augusta University Health has had a formal Neonatal ECMO program for more than 30 years and a Pediatric ECMO program for over 10 years. Now, there is a formal program organized for adult care. Previously these patients were transported elsewhere for this type of care.  
"We did not have a formalized, structured program, which required educating and coordinating the already present medical expertise and highly talented personnel within our institution — including multispecialty physicians, respiratory therapists, perfusionists, pharmacists, perioperative and ICU nursing staff — as well as training our dedicated adult ECMO specialists to support the program on the adult side," Patel said.
Patel and the multidisciplinary team began developing, over several months, a plan and organizing the logistics for offering advanced device therapies for critically ill, eligible patients at AU Health — ECMO being one of them.
"The entire group was committed and brought an attitude of, 'We can do this,' and we were fortunate to draw support and experience from our Neonatal and Pediatric ECMO specialists from the CHOG family," Patel said.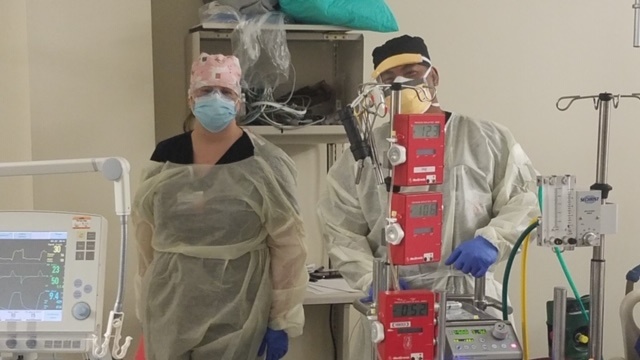 However, when the COVID-19 pandemic hit, it accelerated both the need and the implementation of the ECMO program.
Four patients were recently treated with ECMO in a four- to five-week span. Two of them — as previously noted — were COVID-19 patients. That is an exceptionally high number, given the size and infancy of the program, Patel said.
Amy Cato and colleague Stephanie Robinson took a leadership role to train adult ECMO specialists while providing care for ECMO patients in the ICU. Their enthusiasm and dedication remained unwavering while caring for these critically ill adult patients and sharing their knowledge and experience in the field with their peers.
"We had a passion for ECMO, so we took it upon ourselves and attended a class that is offered by a nationally recognized training facility in Tennessee on adult ECMO because it is so different," Cato said.
They began training respiratory therapists and nurses to provide ECMO care to adults.
Fellow respiratory therapist Richard Dizon said it's more complicated than simply learning to monitor the ECMO device.
"That's the easy part. The hard part is when things aren't working right, or the patient starts acting up, you need to understand and troubleshoot the machine. Is it the machine or is it the patient? Do we have a major blood clot? Do we have part of the machine that has malfunctioned?" he said, adding that it takes time to learn to monitor it effectively.
Because only seven RTs had fully completed the adult ECMO training, each one dedicated long hours at the bedside in addition to their regular duties.
Richard Dizon said he's excited to be part of this new program.
"It's kind of an epic moment to be involved with this new program because I'm learning, our team is learning, the nurses are learning, our doctors — they're all learning as we go along," he said.
These therapists epitomize the meaning of "family-centered care" at AU Health, especially when it comes to COVID-19 patients. Since the ECMO specialists remain at the bedside for 12 hours at time, they frequently engage with the family who cannot be there due to visitation restrictions.
"We are here to provide care as ECMO specialists but hope we're also able to love on your family member to give them that emotional connection since you cannot be with them at this time," Cato said.