Amanda Millsap-Perry participated in the first Augusta University-McCorkle Nurseries Inc. health fair in 2021 and was excited for the chance to do it again this year.
"I'm excited because I think it's a great thing that we're doing for the communities," said Millsap-Perry, who is a respiratory student in the College of Allied Health Sciences. "I think it's a good opportunity to provide them these tests to determine whether or not the results may indicate that they should be seeking further care from a specialized doctor. I like what we're doing because I can see that some people may definitely benefit from just coming through here alone."
AU and MNI partnered for the June 3 event that was held onsite in Dearing, Georgia. Skeetter McCorkle, president and CEO of McCorkle Nurseries, Inc., said last year they had about an 80-85% participation rate from their employees. This year, he expected to have close to 100% participation.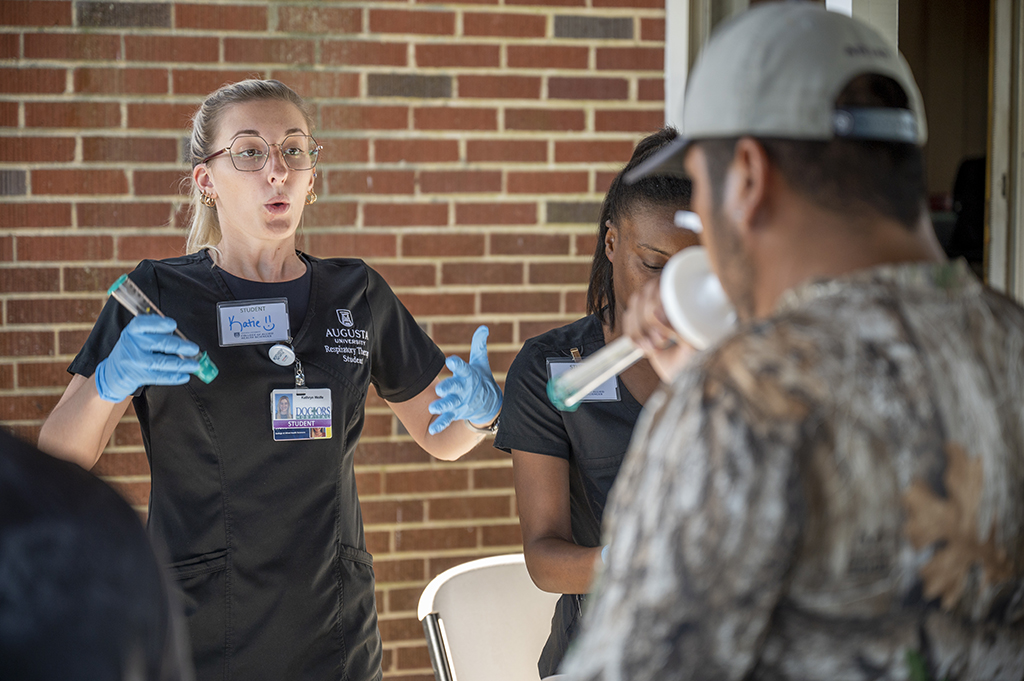 "There were a few holdouts the first year and maybe a little skepticism, but I think that's been overcome from just the word of mouth of hearing how good of an experience it was," he said. "The second is always better than the first after you learn a few things. Last year was a great start, but it's even better, bigger and more robust this year and it's great to see our team really engage with so many people from Augusta University and all the medical people that are involved to make this truly a community event for our people here on the nursery.
"Our people were wowed last year and I think they're going to be even more overwhelmed this year. I heard from a number of people in the company talk about this, and I think we found a medical problem or two early that people were able to address and take care of, so that's very rewarding. We like to take care of our team members and this is one good way to do that, thanks to the partnership with Augusta University."
Event coordinator Dr. Jessica Stewart, a postdoctoral fellow in the Department of Population Health Sciences, originally worked for a vendor that McCorkle Nurseries hired to set up a wellness program during her time at the company, but the program did not address the larger migrant population. Once she finished her doctoral program, she was hired at AU as a postdoctoral fellow and immediately went to work on creating an expanded health fair.
This year, Stewart was ecstatic at the number of returning volunteers, which in her opinion speaks volumes to the purpose of the event.
"This year where we are helps — we're more present and in a more central location for employees," Stewart said. "There is also more to attract people to come visit, whether it's a foot exam, the skin concerns, consultation with a pharmacist that's familiar with community outreach.
"This time we did a lot more education leading up to the event. That helped us to prepare on our part, but having a pharmacist, we had to educate people about her being here. The MPH interns did a 'meet this person' information flyer that introduced them to the community and was translated into Spanish by HR. That's just a way of bringing them to the community before they got here."
Interpreter Services provided eight translators for the event, who offered services to almost 200 MNI employees. Participants were met and screened by volunteers from the Dental College of Georgia, Medical College of Georgia, Georgia Cancer Center, Institute of Public and Preventive Health, College of Allied Health Sciences' respiratory therapy and Master of Public Health programs, National Alliance on Mental Illness, Georgia Department of Public Health and Clínica Latina. Community partners included the Piedmont Health mammogram van, Corporate Health Partners, Shepeard Community Blood Center and family medicine residents from nearby Eisenhower Army Medical Center.
Millsap-Perry said she is "the type of person that learns by doing," so having an opportunity to work in the community while practicing the skills she's honed in the classroom is a bonus.
"You can only learn so much in a lab, like when we work on mannequins and to manipulate them in order to provide some sort of emergency care is different than on an actual person," she said. "The movement is different, speaking to them is different when you're trying to create a rapport. Building rapport is important because that's going to provide the patient an opportunity to trust the caregiver."
Stewart said the health fair helps bring awareness to the health care needs that rural areas in Georgia are missing, but she also feels this helps students in the long run to provide better service.
"I think this is a great way to increase cultural competency in medical residents and medical students so that they can know that it's here, because if you're spending all your time in a classroom or clinic, you're not seeing people where they are," Stewart said. "I think even just coming out to the community to just see 'Oh, OK, this is how they're making their living, this is where they're living,' it just opens their eyes for what the needs are and where they can step in and help.
"I think fairs like these create potential to increase participation in these rural communities in the future when these practitioners graduate. They will be clinicians in the future and I think their participation here will undoubtedly have an impact on that."