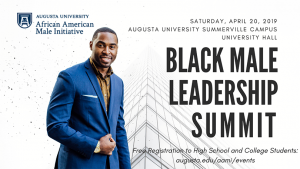 Augusta University's African American Male Initiative is hosting the Black Male Leadership Summit on April 20 at 9 a.m. in University Hall on the Summerville Campus. The summit is a part of the program's E3 Scholar's Program.
The summit will examine the multiple challenges that affect young black men in their pursuit and completion of post-secondary degrees. Students will engage in purposeful dialogue and with community partners and peers and will work to establish effective post-secondary educational and career goals.
The keynote speaker for the event is Michael Cadore, Sr., the associate provost at Eastern Florida State College and a leadership speaker and business leader. This year's theme is "Leaders of Tomorrow: Empowering Black Men to Become Change Agents."
The event is open to parents, college students and high school students and registration is free. Breakfast and lunch are included. Register today.
For more information, please contact the African American Male Initiative or call 706-667-4777.