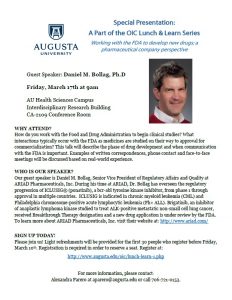 Augusta University's Office of Innovation Commercialization will be hosting a presentation as part of its Lunch and Learn series at 9 a.m. on March 17. The event will take place in conference room CA-2109 of the Interdisciplinary Research Building located on the Health Sciences Campus.
Dr. Daniel M. Bollag, senior vice president of regulatory affairs and quality at ARIAD Pharmaceuticals, has been invited to serve as guest speaker for the event. The presentation will focus on the process of working with the Food and Drug Administration to develop new drugs from the perspective of a pharmaceutical company.
Unlike previous Lunch and Learn presentations, the upcoming event will begin in the morning and will not include lunch. Light refreshments will be provided to the first 30 people who register for the event before Friday, March 10, however. Registration is mandatory for anyone wishing to reserve a seat.
Register for the event here. For more information, contact Alexandra Parero at aparero@augusta.edu.