During a virtual town hall this week, Augusta University President Brooks A. Keel, PhD, did not mince his words about the importance of faculty, staff and students getting vaccinated against COVID-19 and its highly contagious Delta variant.
"I don't know how else to say this, but if it would make a difference, I would get on my knees right now and beg," Keel said. "Please, please get vaccinated. Please get vaccinated. I don't know how else to say it than that. That is the only way we're going to get beyond COVID-19."
In addition, while wearing masks will not be mandatory at Augusta University, Keel said both the unvaccinated and vaccinated are strongly encouraged to wear a mask or a face covering while inside campus facilities.
"Masks and face coverings are not required for campus, in buildings or otherwise. And they're not required regardless of vaccination status," Keel said. "However, we are strongly encouraging everyone, including vaccinated members, to wear a mask or face covering while inside campus facilities."
Also, following the University System of Georgia guidelines, there are no social distancing requirements at Augusta University, Keel said.
"Institutions want to return to campus in the fall with no social distancing measurements, but all non-vaccinated individuals are still strongly encouraged to continue to social distance when possible," Keel said. "Masks and face coverings are not required in any facility on our campus and education facilities on our campus, although we do strongly recommend that everyone wear masks. I think that's the bottom line."
Moving forward, Keel asked faculty, staff and students at Augusta University to work together to maintain its welcoming environment and respect everyone's choices.
"We are a university and a system that cares deeply about each other," he said. "We're all in this together. I'm asking you to please work with me. It's not about the politics here. It doesn't matter what I think about the politics, and, to be honest with you, it doesn't matter what you think about the politics."
Augusta University will get through the COVID-19 pandemic by working together and not making this virus a divisive issue on campus, he said.
"We're in this together," he said. "And it is not about the masked versus the unmasked. It certainly isn't about us and them, or which side of that equation you find yourself on. We have all worked together to get through this.
"We've been through an awful lot, which gives me great confidence we're going to get through this."
However, Keel did say he wanted to correct a lot of misinformation that is being spread about the COVID-19 vaccine.
"The first myth is, I've already had COVID-19, so I must already have enough antibodies and don't need the vaccine. That's not correct," Keel said. "The immune response that you get from the vaccine is better… The vaccine is more consistent, more dependable, and if you've had COVID-19, you should get vaccinated."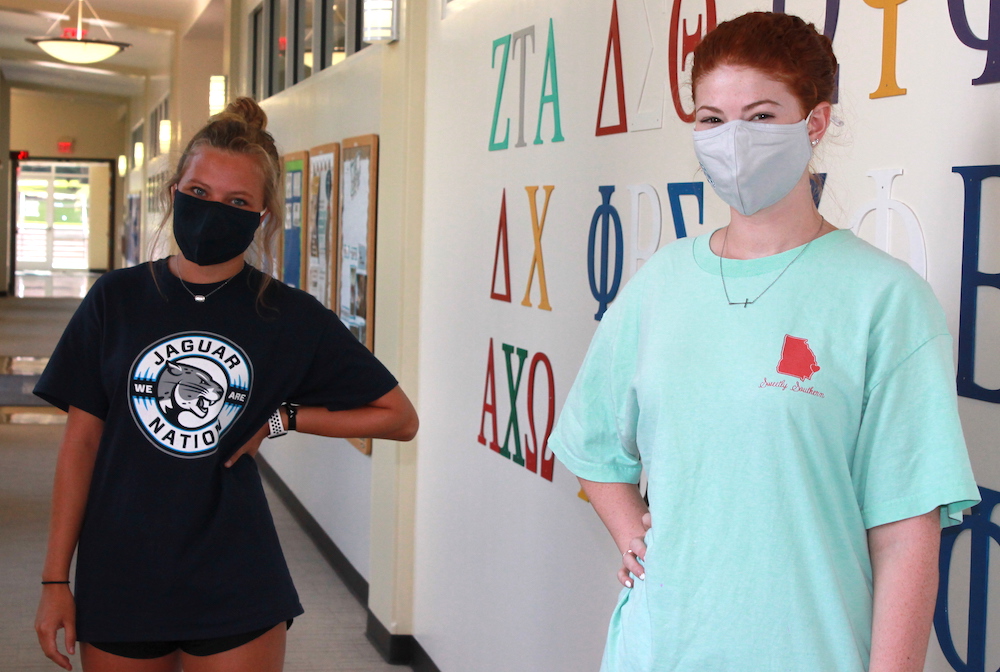 Another myth is that some people think they can't afford the vaccine because they don't have insurance, Keel said.
"That's also wrong. The vaccine is completely free of charge," he said. "You can find an appointment today at augustahealth.org/vaccine. We will get you a vaccination shot if you want one. It's very easy to do."
The one concern that Keel said he hears most often is that the vaccine came out too quickly and, therefore, it can't possibly be safe.
"I do understand that, because we have heard about how long it takes anything to get through the FDA. And then you've heard about this Emergency Use Authorization. It sounds like some sort of experiment or something," Keel said. "But the process for which the Moderna and the Pfizer vaccines were derived, that research has been going on for decades and scientists have published numerous studies with similar coronaviruses and their vaccines.
"All of the FDA sponsored trials were successfully completed prior to the FDA authorization, even with the Emergency Use Authorization."
Simply put, the "bureaucracy was shortened" with this vaccine, Keel said.
"The COVID vaccine got moved all the way to the front of the list for all the approvals. That was the shortened process, but the safety efficacy was not," he said. "This is an incredibly safe vaccine. All three of them are safe."
Keel also hears some people are afraid of the side effects of the COVID-19 vaccine.
"Severe side effects are rare. They're not common," he said. "We do see some mild side effects that actually are quite similar to what some may have experienced with the flu and that just indicates that your body is building immunity. Nobody wants to have side effects, but that's telling you that the vaccine is working."
As for the excuse that it takes too long to get vaccinated, Keel said that's not the case at Augusta University Health.
"Not here. I have to say, I am so proud of how our health care providers have made this process about as easy as anything I've ever seen," he said. "Back when we were doing mass vaccinations of thousands of people a day, I had numerous people stop me and said, 'It only took me 20 minutes from the time I got out of my car to the time I got back in my car.'"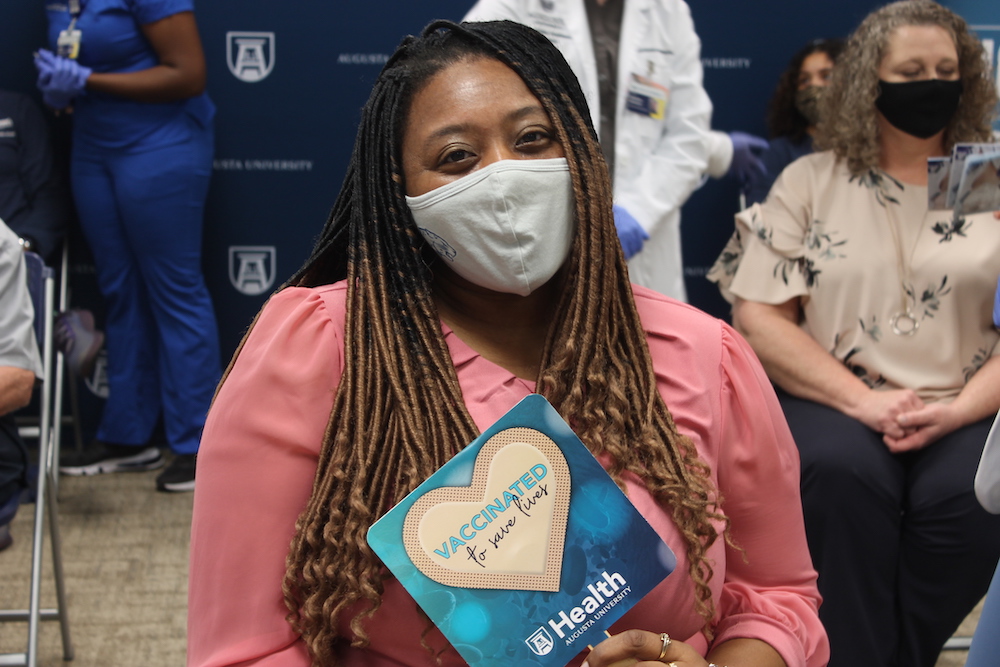 That time includes the 15-minute wait after someone has been given the vaccine, Keel said.
"Actually, getting your shot takes about five minutes," he said. "You will sometimes be asked to sit in a chair just to make sure there aren't any issues with you for about 15 minutes, and then you're on your way. It's a very quick and simple process."
Keel also said he hears people say they want to let other people get vaccinated first to see if it works out for them.
"It's certainly a personal choice, but experts say that anywhere from 70% to 85% of the population need to get vaccinated to achieve this herd immunity in order to help stop the spread of the disease through communities," Keel said. "There have been millions and millions of individuals who have received these vaccines. You don't need to wait any longer. It's time to get it now."
Concerns that the vaccine will mutate a person's genes are also unfounded, Keel said.
"These vaccines, like Moderna and Pfizer, never enter the nucleus of the cell," Keel said. "That's where the DNA is. It's not going to alter your genes, so it's a very safe vaccine."
In addition, the vaccine will not give a person COVID-19, Keel said.
"The vaccine cannot give you the virus. It protects you from getting the virus," Keel said. "So again, it's a very safe vaccine."
Finally, Keel said he actually didn't think people believed the last myth he heard about the COVID-19 vaccine having a "microchip that will track and control an individual."
"I thought this was a joke. Not a very funny joke, but I thought it was a joke," Keel said. "Seriously, there are people out there who believe this. And what's further bizarre is that they believe (Microsoft founder) Bill Gates was behind it. What I can promise you is, Bill Gates is not putting microchips in the vaccine so he can track movement and determine who has been vaccinated. Please help us put these myths aside. "
For the health and safety of the university and the entire community, Keel asked everyone to please consider getting vaccinated if you haven't already.
"This particular pandemic is quickly becoming the pandemic of the unvaccinated," Keel said. "Even within our own health system, as the cases are going up, it is a rare occasion in which we see in the hospital a person with COVID-19 who has been vaccinated.
"The people who are dying and who are in the hospital right now are, by and large, unvaccinated," Keel added. "And if that doesn't give you enough proof to go get a vaccine, I don't know what does. So, what are you waiting for?"
Find more information about Augusta University Health's vaccine clinics.