The Office of Student Life and Engagement has launched a new rewards program called "Paw Points" for all Augusta University students.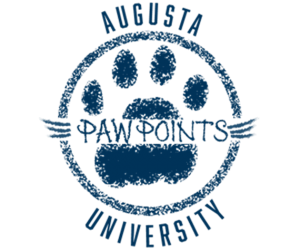 The Paw Points program will help students track their involvement at campus events — and reward them for it. Students will receive points when they check in at a registered event, and the number of points they receive is determined by the type of event:
Leadership/wellness event: An event to assist students with leadership development. 15 points.
Service event: An event where students offer their service to a nonprofit or charitable cause. 15 points.
Campus traditions event: A campus-wide annual event (e.g. the tree lighting, homecoming, Pig Out). 10 points.
Social or athletic event: An event for students to build fellowship and community. 5 points.
Academic event: An event for students to further their knowledge in an academic area. 5 points.
Multicultural event: An event to develop cultural awareness and education. 5 points.
Closed meeting: A private student organization meeting reserved for members of the organization. 1 point.
Follow these steps to participate in the program:
When a student signs in at a registered event that offers Paw Points, they will automatically receive points in their JagLife account.
Students can track their points through the JagLife app and website.
When a student reaches a certain threshold of points, they can stop by the Office of Student Life and Engagement, located in the Jaguar Student Activities Center, to redeem a prize.
Students can continue to earn and redeem prizes as the semester progresses.
The program resets each semester.
Collect points for the reward system:
35 points: JagSwag (e.g. Paw Points-themed phone accessories)
60 points: Paw Points apparel (designed by students)
90 points: A Paw Points drink tumbler; perks at campus events; and access to an exclusive on-campus coffee/beverage station, which will pop up periodically in the JSAC
120 points: Exclusive access to the end-of-semester celebration
Learn more about the program on JagLife or email jaglife@augusta.edu with questions. Download JagLife on The App Store or Google Play.